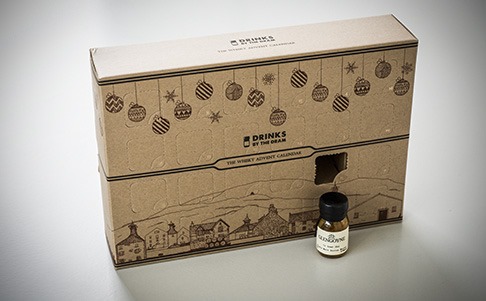 Drinks by the Dram is the sample service from Master of Malt. It gives spirits enthusiasts and connoisseurs the opportunity to try a wax-sealed 3cl sample of over 5000 drinks. I order their whisky samples every few weeks and I can heartily recommend them.
For the festive season they came up with a Whisky Advent Calendar, a box with a different dram behind each of the 24 windows. It's a brilliant gift for whisky lovers, or simply for yourself to count down to Christmas in style.
Whisky countdown to Christmas!
I've had a sneak peek at this year's edition and I must say it's great. Well executed in heavy cardboard (although the windows are perhaps too difficult to open) and the contents is a lovely selection of whiskies from around the world. Some are classics (e.g. Lagavulin 16 Years), some are brand-new releases (e.g. Macallan Double Cask) and the highlight is an impressive 50 year old Scotch worth € 700. If you buy it, you may want to come back here as I will review a few of the drams!
The 2016 Whisky Advent Calendar is available from Master of Malt for around € 175. Not cheap, but I've seen more money being spent on gifts much less cool than this! Now is the time to order it in time for December.
Actually they have a whole series of advent calendars: whisky, premium whisky, gin, cognac, bourbon, only Scotch, only Japanese, only single casks… you name it. There's even a € 12.000 edition which includes a sample of the Glenfarclas 60 Year Old and Karuizawa 1964.