One of the Dream Drams at The Whisky Show 2015 was a new, yet to be released Karuizawa 1980 Vintage. I suppose it's called 'Vintage' because it contains multiple casks? Update: it's a single cask alright. No cask reference or anything though.
It wasn't sold at The Whisky Show to avoid the stress that normally goes with Karuizawa sales, but I've heard visitors will be contacted to take part in a ballot.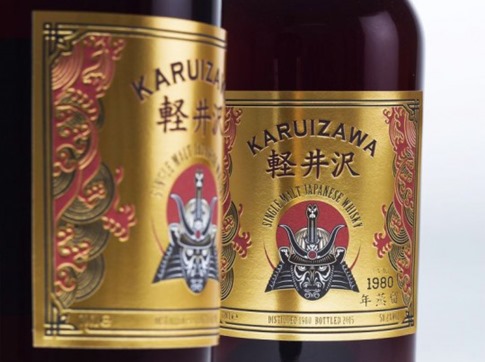 Karuizawa 1980 (61,6%, OB for Speciality Drinks 2015)
Nose: starts quite musty and medicinal. Lots of incense and wet pipe tobacco. Cedar oak, old wardrobes and sweet liquorice. Hints of cough syrup, Melissa and tiger balm. Thyme. After that it also shows big hints of polished oak and old Amontillado with whiffs of chocolate, a little raspberry vinegar and subtle floral notes. Very savoury and rather unique.

Mouth: really spicy, minty and oaky, with the same high levels of tobacco notes and cigar leaves. A big powerhouse. With water it shows complex herbal notes, cough syrup and resin sweets. Not tannic per se, but the herbal, mentholated, oaky side isn't exactly balanced with fruity notes.

Finish: long, on liquorice, Seville oranges, menthol and more wood extract.
This is a powerful, extremely medicinal Karuizawa. It showcases an essential element in the distillery character but I prefer expressions where it's coupled to more fruity sherry. Not sure what the price will be.
Score: 89/100