In October 2015, Finnish distillery Teerenpeli released a 10 years old single malt, a first for the country.
The distillery started in 2002 but they rely on an older group of restaurants and a beer brewery. The copper pot stills were manufactured in Scotland but they're  working with local barley and get their water from an ancient glacier. They've recently increased their capacity, up to 160.000 litres of spirit per year.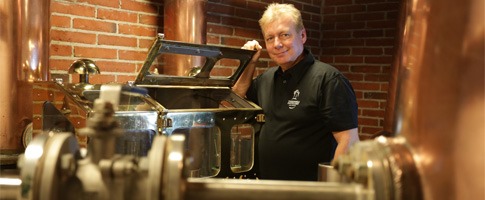 The Teerenpeli 10 Years was matured in a combination of 85% bourbon and 15% sherry casks. It is available in the Finnish state liquor stores but international enthusiasts can turn to Master of Malt or The Whisky Exchange.
Teerenpeli 10 yo
(43%, OB 2015)
Nose: starts in a raw, grainy way but quickly becomes more mellow. Rather classic, I'd say, with lots of malty notes, lemon and a big floral side. Soft hints of Acacia honey, alongside coconut and vanilla. It's light, with mostly the bourbon wood talking, but it's nice.

Mouth: creamy texture, starting on apples and caramelized sugar. Custard. Still a spirity edge. Then a firm peppery note and some toasted oak, which merges with a very soft hint of peat.

Finish: medium long, with warming vanilla and toast.
No surprises here, it's well-made, honest whisky with a fairly neutral profile. I believe a wine finish could make it a bit more exciting, so I'll be looking at the Madeira and Moscatel versions in the near future. Around € 100.
Score: 79/100