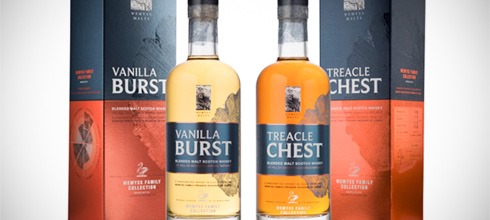 Over the past decade, Wemyss Malts sourced an assortment of casks to fill with single malt spirit from distilleries across Scotland, rather than purchase mature whisky. In the new Family Collection they will each year release casks that focus on one specific influence that impacts whisky: specific regions, specific malt, or in this case specific types of wood.
Vanilla Burst is a blend of two Speyside malts from 15 first-fill bourbon barrels. On the other hand Treacle Chest is made with two Highland malt whiskies matured in 15 first-fill sherry hogsheads.
Wemyss 'Vanilla Burst' (46%, Wemyss Family Collection 2017, first-fill bourbon barrels, Batch #01, 4800 btl.)
Nose: the expected profile of fresh garden fruits (apples, peaches, gooseberries, plenty of citrus) and light floral honey. A good dose of vanilla cream. Soft grassy and floral notes. Rather bright, summery and easy-going.

Mouth: same feeling. Oranges, stewed apples, grapes, moving towards zesty notes and some leafy touches. Malty notes. Vanilla of course, light caramel and spices.

Finish: medium, on grass / hay, light nutty notes and subtle ginger. Just a slight roughness in the aftertaste.
Nicely composed, light and easy-drinking whisky that is indeed a fair example of how bourbon wood influences / complements a Speyside whisky. Around € 45. Not yet widely available, try here.
Score: 82/100
Wemyss 'Treacle Chest' (46%, Wemyss Family Collection 2017, first-fill sherry hogsheads, Batch #02, 6300 btl.)
Nose: obviously more on treacle, chocolate and figs. Slight traces of sulphur, which fade as it opens up. Raisins, a little pepper. Hints of tobacco and shoe polish. Also a nice rose-like heady top note.

Mouth: lots of caramel and chocolate again. Dark fruits, dried apricot, hazelnut. Pepper, cinnamon and ginger, hints of pencil shavings and resin.

Finish: longer, spicy with the same fruity notes and caramel.
Somehow this feels less natural, less bright, a bit more bloated. I liked their Velvet Fig better but I believe it is now discontinued. The two make a very educational pair though. Around € 50. Not yet widely available, try here.
Score: 80/100