Bruichladdich Octomore 08 Masterclass
The Octomore Eights Masterclass series consists of four new Octomore expressions, including Octomore 08.3 which will be the peatiest whisky ever produced (309 ppm phenols). Following distillation, the heavily peated spirit was matured in a combination of ex-Bourbon casks, and ex-wine casks made from European oak, for five years.
The series uses 2008, 2009 and 2011 distillates and different cask types, from plain oak barrels to Sauternes, Amarone, Ventoux, Burgundy, Mourvèdre and Austrian sweet wine casks.
The price will be between € 135 and € 185, more or less.
Update: Octomore 08.4 is now available from Master of Malt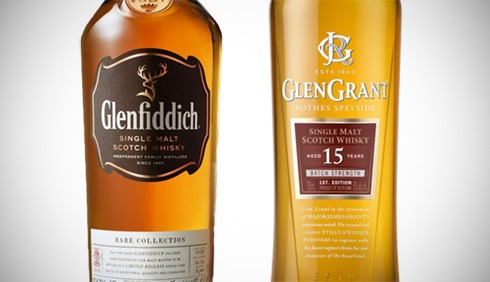 Glen Grant 15 Years 'Batch Strength'
Glen Grant seems to prepare a Batch Strength series, starting with a Glen Grant 15 Year Old expression bottled at 50%. Now Batch Strength would make me think it was natural strength (different with each batch) but 50.0% seems surprisingly coincidental, so I guess the next one will be the same strength but simply a slightly different composition?
Glenfiddich Rare Collection 1973
For the oil barons among us: an upcoming Glenfiddich 1973 cask #7585 in the Rare Collection. Just 98 bottles. Based on previous releases I expect this to be around € 4000.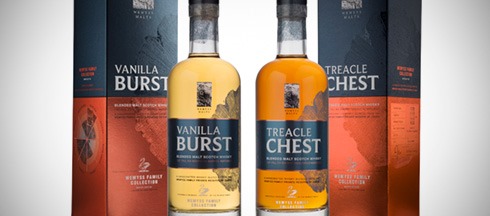 Wemyss Malts Family Collection
Wemyss has just announced its Family Collection, a range of blended Scotch malt whiskies that have been produced from the family's private collection of maturing whisky casks. Rather than use whisky that has been purchased mature and ready to blend, Wemyss Malts has over the past decade sourced oak cask varieties to partner with single malt spirit selected from some of Scotland's foremost distilleries.
The first two expressions are Vanilla Burst (a blend of only 2 Speyside single malts, matured in first-fill bourbon casks) and Treacle Chest (two Highlands malts from first-fill sherry hogsheads).
Bottled at 46% and available mid-August for around € 50.
Update: see my tasting notes for the Wemyss Family Collection