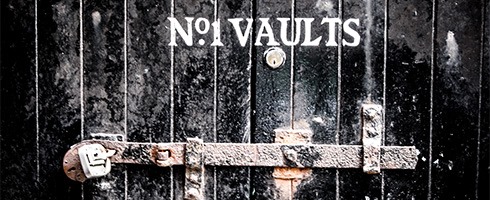 This is the first release in the Vault Edit1°n series from Bowmore distillery, launched in November 2016. The series explores four of the essential characteristics of Bowmore whisky after maturation in the legendary N°1 Vaults, in this case Atlantic Sea Salt. The other yearly releases will explore peat smoke, vanilla sweetness and citrus fruits.
Bowmore Vaults Edition is matured in ex-bourbon casks and bottled at high strength.
Bowmore Vault Edition
(51,5%, OB 2016, first release)
Nose: nicely balanced, though perhaps a little shy at first (it's a fine line). Vanilla with some sweet lemons and oranges. Hints of apricots and berries. Light biscuity notes. Sea spray indeed, and some light wood smoke.

Mouth: nicely oily, and quite a maritime Bowmore indeed. A really nice combination of salt and fruits. Citrus, peaches. Iodine and a some earthy smoke. Touches of ginger. I was hoping for the lightly tropical notes that we something find in 1990s-2000s Bowmore but perhaps this is too young to expect that? Just a touch of herbs and mint in the end.

Finish: not too long, slightly drier. Same mix of fruits, salt, ashes and a light earthiness.
This Vault Edition is a nice Bowmore, Tempest-style perhaps, and the salt notes are clearly present. Mission accomplished. That said, there's little Vaults N°1 magic… solid whisky with a fairly high price. Around € 120.
Score: 84/100