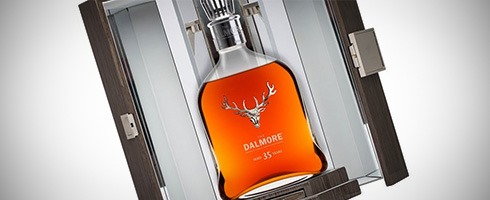 As you know, I attended an exquisite Dalmore tasting courtesy of their Belgian importer The Nectar, which culminated in a sip of the Dalmore 50 Years, a special release to celebrate the 50th work anniversary of Master Blender Richard Paterson.
The distillery released more celebration bottlings this year, like the Dalmore Quintessence and this Dalmore 35 Years. It has been aged in three types of cask: first-fill ex-bourbon barrels, Matusalem sherry butts and a Colheita Port pipe. It is presented in a hand-blown Baccarat crystal decanter, adorned with a silver Dalmore stagg emblem.
Just 1000 bottles will be released every year, for five years.
Dalmore 35 yo
(40%, OB 2016, 5000 btl.)
Nose: excellent. Less sherried than you'd expect from this distillery, but very vibrant and lively. Lots of ethereal notes, rose petals and buttercups, alongside juicy mango, apricots and hints of bananas and pineapple. Hints of orange cake and almond pastry. I love this style.

Mouth: again quite excellent, very fruity in a tropical way. Oranges, bananas, ripe mango, hints of passion fruits. Touches of candied ginger and clove after a while, as well as hints of roasted chestnuts and a little sweet coffee. Not at all winey, just a little weak.

Finish: fairly long, on fruit tea, soft herbs, honey and gingerbread.
At a higher strength, this would have been out of this world. As it is, it is rather delicate but superbly fruity and still my favourite Dalmore so far. Around € 4300, available from TastToe in Belgium or Master of Malt if you're abroad.
Score: 92/100