The Glenlivet Cipher was a marketing experiment: all the details about age, vintage, cask types used, tasting notes… were hidden and were to be discovered in an online deciphering game. It is presented as a mysterious whisky and comes in a fitting opaque black bottle that looks really classy.
My first impression was quite reserved. Would people spend € 115 on a blind bottle with no clues whatsoever, only to play a game and find out whether they like it? Nonetheless I gave it a try.
The accompanying website includes a few introductory videos and invites you to select six aromas for the nose and the palate. It then computes your tasting notes and gives you a score. This could have been executed better. To know how it worked, I selected totally random aromas and it came up with a score of 41%. I then tasted the whisky, watched the visual clues (a video that shows bees or pieces of butterscotch for instance) and carefully selected the aromas again. I scored… 51%. Other reviewers all seem to score within the 45-55% range – so I guess the algorithm needs tweaking (and perhaps the idea of quantifying a sensory experience doesn't really work in the first place).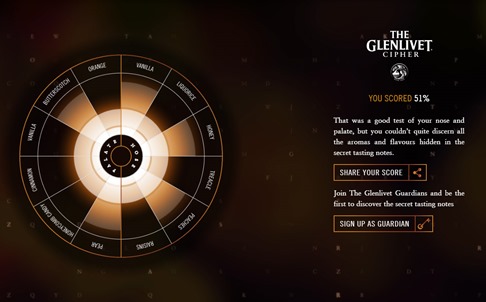 I also hoped for a confirmation of what you're supposed to get from this Glenlivet Cipher, together with some explanation of where typical aromas come from and how they got into this particular whisky. Cask type, age… indeed. It could have been very educational, yet they're only telling me I'm (always) 50% close to something that is not disclosed. That's just frustrating. The wait is almost over though, as the full details will be disclosed next week on their website. They already say it is using a combination of casks never seen before in The Glenlivet portfolio…
Onto the whisky itself then…
Glenlivet Cipher (48%, OB 2016)
Nose: natural, modern style with vanilla, malty notes, honey and cooked fruits. Apples and pears, perhaps some light pineapple from the obvious first-fill American oak. Light ginger and a waxy touch.

Mouth: same feeling of fresh oak, with a lower amount of fruits this time. A bit of butter toffee, peaches and honey. Apples and unripe pineapple. Light ginger and cinnamon, as well as some bitter woody notes towards the end.

Finish: not too long, plenty of spices (pepper, cinnamon) and something of sweet banana that breaks the otherwise dry finale.
Glenlivet Cipher is an okay dram that shows some similarities to the Glenlivet Founder's Reserve and adds a bit of Nadurra influence and a bit of sherry perhaps. Not bad. Not entirely necessary either. Around € 115.
Score: 81/100