Last Saturday, coinciding with World Whisk(e)y Day 2017, Redbreast hosted a Facebook Live Tasting from the Midleton Distillery. Head Blender Billy Leighton and Apprentice Blender Dave McCabe unveiled a very rare whiskey dubbed #RedbreastDreamCask. They sent out 100 blind samples beforehand.
In case you missed it, you can revisit the livestream here:
It turned out to be a 31 year-old Redbreast, single pot still, distilled 31st of October 1985 and initially matured in refill bourbon wood. In 2011 it was re-casked to a sherry butt, then at 48,3%. We tried it at cask strength 46,7%.
It's part of the parcel of sherry casks that had initially been selected for the first edition of the Redbreast 21 Year Old, back in 2013.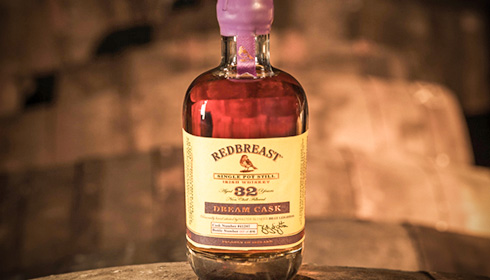 Update: Redbreast has just bottled this Dream Cask (now 32 Years Old and 46,5% ABV), it will be available to buy through its member's area The Birdhouse from Saturday 19th May 2018. A 50cl bottle costs € 500.
Redbreast Dream Cask 31yo 1985 (46,7%, OB 2017, sherry butt #41207)
Nose: gorgeous. There's plenty of juicy and slightly heady Oloroso, with redcurrant jam, fresh plums, clementine, apricots and mango. Excellent fruitiness, and topped with lovely hints of beeswax, mint and polished exotic wood. Very gentle spices. Almond pastry. Something of an old cognac as well. Fresh, bright and hugely aromatic.

Mouth: oh boy, it's full of tropical fruits now. Kiwi, passion fruits, mangos, bananas. Still some red berries, blackcurrant, damsons. A slight piña colada edge, as well as some rummy notes. Varnished oak, gentle hints of nutmeg and liquorice. Just light coffee beans. Fresh verbena and fruit teas. Such vibrancy!

Finish: long, slightly drier, with hints of chestnuts and cinnamon. The tropical fruits keep going.
As you may know, I adore the Redbreast 25 Years #42972 for LMdW (now sold out) and this is definitely on the same level, it even goes slightly beyond the 25 years. The juicy sherry, the tropical fruits, polished oak, in a very vibrant and elegant package. The oldest and probably the best Irish whiskey I've tried so far. There's 450 litres left in the cask. Where can I sign up for a bottle?
Score: 93/100