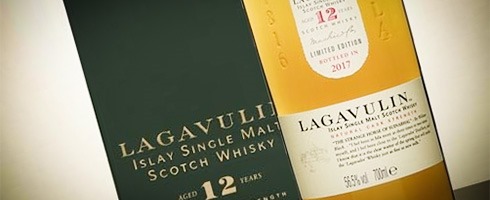 As usual this is the most accessible releases from Diageo's Special Releases 2017. As often it is also one of the most reliable releases. Lagavulin 12 Year Old, the cask strength expression.
Lagavulin 12 yo (56,5%, OB 2017, 17th release)
Nose: sweet, deeply sooty, with lots of medicinal notes, coastal notes, shells on a beach, putty and earthy notes. As expected. Some gherkins, but there's a gentler side too, something of butter pastry, almond cream and lemon oil. Sharp and powerful, but somehow very balanced.

Mouth: same intensity. Big peat with pepper and lemon. Smoked fish, leathery notes, ashes, wax and salted caramel. Medicinal and very coastal. Just a few fruity notes in the background. Big, big sooty notes.

Finish: very long, ashy, lemony. Perfect sharpness.
Pretty much a benchmark for this medicinal, robust, hugely sooty style. I often had problems with its fierceness and dryness but for me this is slightly sweeter, more balanced and the most enjoyable batch I've had. Recommended. Available from the usual stores like Master of Malt.
Score: 90/100