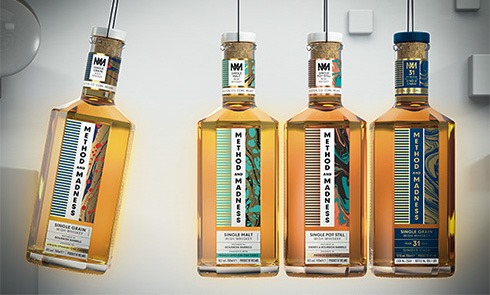 Midleton – Method and Madness
Method and Madness is a new range of experimental Irish whiskeys that originated at the Midleton distillery as an interaction between the distillery masters and some of their young apprentices. The range launches with four expressions, each with its own twist:
a Single Grain Irish Whiskey from ex-bourbon barrels and finished in Virgin Spanish Oak (€ 49)
a Single Pot Still Irish Whiskey from Oloroso sherry and bourbon barrels, finished in French Chestnut (€ 69)
a Single Malt Irish Whiskey from bourbon barrels, enhanced with French Limousin Oak (€ 79)
a 31 Year Old Single Cask Single Grain Limited Edition bottled from a bourbon cask at cask strength (€ 1500)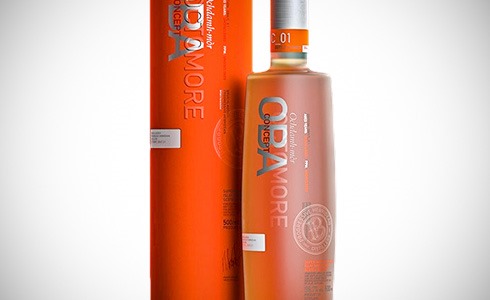 Octomore OBA concept
Octomore OBA concept OBA/C_0.1 is a limited distillery release of only 3000 small-sized bottles (50 cl). Bruichladdich's head distiller Adam Hannett presented it during Feis Ile 2016, but with no further details. No clues, no workings out – the drinker will be the judge. Sounds a bit like something from Glenlivet. Sold out already, if I'm not mistaken.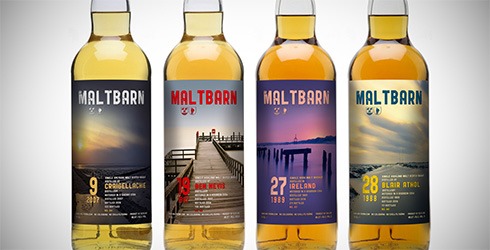 Four new Maltbarn releases
German bottler Maltbarn reaches a total of 70 releases with these four new bottlings:
Irish Single Malt 1989, Bourbon, 211 bottles, 45,5% – € 280
Craigellachie 2007, Sherry, 123 bottles, 48,6% – € 70
Ben Nevis 1997, Bourbon, 132 bottles, 48,6% – € 130
Blair Athol 1988, Bourbon, 111 bottles, 49,6% – € 220