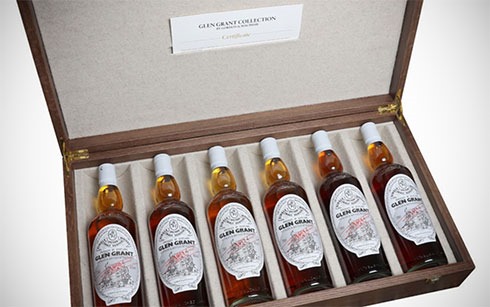 This Glen Grant 1950 was bottled in 2007, but it was recently brought to our attention as it was re-bundled as part of the Glen Grant Collection, a stunning £ 10,000 Gordon & MacPhail ensemble with seven Glen Grant from every vintage between 1950 and 1955. Only 75 cases were available, but there were rumours about sequel editions.
Glen Grant 57 yo 1950 (40%, Gordon & MacPhail 2007, refill sherry casks #853 + #2734, 688 btl.)
Nose: the kind of very oily, resinous whisky with lots of beehive notes (waxed furniture, pollen). Subtle berry notes, apples, sour exotic fruits, a little verbena and star anise. There's an underlying old-school hint of coal smoke. Bergamot tea. Leathery notes as well.

Mouth: same kind of sooty side, mixed with juicy fruit salad notes (yellow apples, plums, orange peel, just a little papaya). Light honey notes, eucalyptus, fruit tea again. Still a very nice waxy layer. Quite smooth and delicious.

Finish: not too long, with orange peel, woody notes and some herbal notes going strong.
Too bad this wasn't bottled at a slightly higher strength (we know that can cause fireworks) but still a very juicy, fruity whisky with nice old-school smoke and no fatigue at all. You can still get it as a single bottle from Master of Malt, it seems the collection is sold out.
Score: 91/100