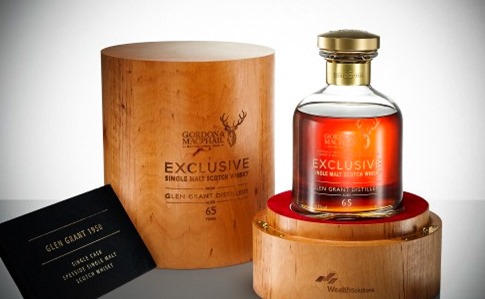 WealthSolutions in Poland is becoming quite a name in the presentation of ultra-premium spirits. They select some of the oldest casks they can get from well-known distilleries and sell them primarily to investors.
So far we were able to try their Karuizawa 1964, Glen Grant 1948 and Glenfarclas 1953. We will also look at their pre-phylloxera Bache Gabrielsen and L'Esprit de Tiffon cognacs in the future, but now we are looking at this Glen Grant 1950.
Like the 1948, this comes from the Gordon & MacPhail stocks. It is a stunning 65 years old and it was bottled at the rather staggering cask strength of 59,3%. This make it an even rarer dram.
As a side note, I was thinking whether the large, wide space under the cork could be a problem for its conservation? Higher chance of oxidation, no?
Glen Grant 65 yo 1950
(59,3%, Gordon & MacPhail for WealthSolutions 2015, sherry butt #2747)
Nose: pretty incredible. At first you're hit with a huge turpentine / varnish note, not unlike some very old American whiskies. In this case it is almost exotic, as it mixes nicely with a bunch of tropical fruits (banana, mangosteen, papaya). Vanilla. Menthol and eucalyptus. Orange peel and apricots. Herbal honey. Also peppery notes and liquorice. Leather. All very vibrant and intense, you don't expect elderly people to scream at you like this. Quite superb.

Mouth: just wicked. It takes the room with mint tea, pepper, then pine sap and resinous notes and herbal potions. When the first heat disappears, it moves towards fruit tea, spiced cake, coconut shavings and lots of plum liqueur. Maybe a strawberry or two. Back to vanilla, orange oil and plenty of spices like cardamom and cinnamon. And soft earthy touches underneath.

Finish: long, still enough fruits to balance the active oak. Mint and eucalyptus again. Apricots and ginger as well.
Excellent. It has to be said that finding a cask of this age that isn't wrecked by the wood is quite an achievement already. In this case you get all the wonderful aromas of ageing at an impressive strength. The price of this baby hasn't been disclosed. You can get a slightly younger 1950 from Gordon & MacPhail for around € 3000 but I wouldn't be surprised if this were five times more expensive.
Score: 93/100