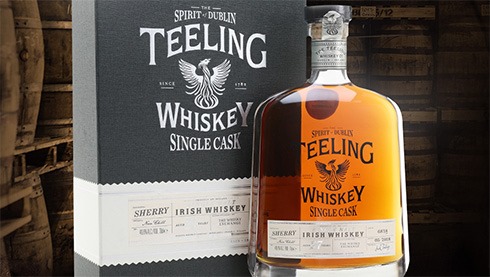 We've had a lot of these undisclosed 1991 Irish single malts in the past few years. Of course this comes with a Teeling badge, but we all know it comes from another Irish distillery – John Teeling founded the Cooley distillery in 1987 and managed it until they sold it to Beam in 2011. Back then they also possessed large stocks from other producers including Midleton. Most of these 1991 casks are said to be Bushmills production.
Anyway I've tried over a dozen different 1991 casks and there are many more on Whiskybase, but I can only think of one sherry cask, the famous Maria label bottling. Now there's a second sherry cask #6838, bottled exclusively for The Whisky Exchange.
Teeling 27 yo 1991 (49,8%, OB for The Whisky Exchange 2018, sherry cask #6838, 180 btl.)
Nose: whoa, the Holy combination indeed: a juicy fruit bomb with jammy sherry. So many tropical fruits, like pink grapefruit, fresh pineapple, kiwi and apricots. Sour cherries and mango too. Subtle floral notes (Moscatel wine), hints of fruit cake / Jaffa cake and light sherry cask spices in the background. Hints of raisins and cognac. Best of both worlds: Irish fruits and sherry, I love it!

Mouth: the same explosion of fruits (pineapple, guava, pink grapefruit) alongside sherry notes (raisins, rummy notes, a little cocoa) with a bit more spices along the way (candied ginger, peppery notes). An earthy, almost mineral twist in the end, with a hint of roast coffee beans.

Finish: long, on leafy notes (fruit tea), grapefruit, old wood, sour cherries and anise.
Downright excellent, in the top-5 of all Irish whiskeys I've had so far. Very complex and vibrant. I've always felt sorry for not buying the Maria label, so I had to grab this second chance… Who's in for a head-to-head? Still available from The Whisky Exchange.
Score: 93/100