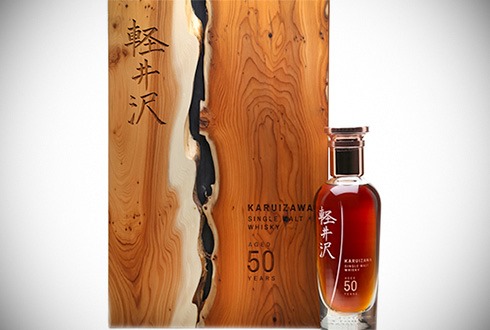 Elixir Distillers (the bottling branch of The Whisky Exchange) donated a bottle of Karuizawa 50 Year Old to a charity auction which will raise money for Plastic Oceans, a non-profit organisation raising awareness of the impact of single-use plastics on our oceans.
The auction itself will take place in November and 9 out of 15 lots are specially prepared one-off bottles never to be repeated. There are only 2 bottles of this Karuizawa 50 Year Old, one of the oldest expressions ever bottled from this distillery.
Not much is known about the whisky, actually. There have been a few Karuizawa 50 year-olds so far, most of them distilled in 1965. This one doesn't mention a vintage year, nor the wood type. A vatting maybe? In any case I haven't seen 1960s production with such a phenomenal strength after half a century in wood.
Update: this Karuizawa fetched £100,100 in auction.
Karuizawa 50 Year Old
(65,2%, Elixir Distillers, 2 btl.)

Nose: very elegant, mostly because of the precious polished wood, leather and minty notes. Humidor. Luscious notes of dried apricots and quinces. Oriental pastries. Herbal honey, eucalyptus, gentle pepper. Echoes of incense. Floral notes as well, maybe orange blossom water. I expected a sherry bomb but this even has a rummy side and traces of grain whisky.

Mouth: impressive. Very oily, with plums and apricos, crystallized tangerines, hints of vanilla and dried pears. Mentholated oak. Cinnamon. Fruit tea. Nutty notes and hints of ginger. Just a little resinous edge. Hints of old cognac but at a much higher strength.

Finish: long, on spicy oak (ginger), pink grapefruit and tobacco.
This is superb: it has a clear oriental side but it's also less Japanese than others, perhaps because it's less sherried and more fruity. Closer to a magnificent old Glenfarclas or ex-bourbon Strathisla for instance (with more punch). Very fresh, very interesting, I'm sure this will convince someone to help clean the oceans with a generous donation.
Score: 94/100
ps/ Other than this, you can still put your name on the list for the Karuizawa Murasaki Geishas as well, the latest 29yo and 31yo bottlings.