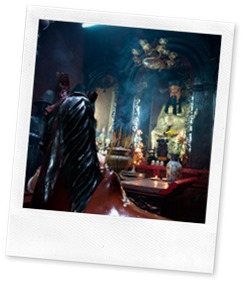 Released exclusively for the Taiwanese market, this was the second oldest Karuizawa ever (at the time), and the only cask left of the 1967 vintage.
It was presented at Whisky Live 2012 in Taipei and then released to the market at the beginning of 2013.
I'm sure visiting Asia makes you understand this kind of whisky even better.
Karuizawa Vintage 45 yo 1967 (59,6%, OB for Taiwan 2012, Aqua of Life, sherry butt #2725, 310 btl.)
Nose: typical solventy ebony, cedar and sandalwood. Old leather. Mild ashes / incense. Reminds me of Asian temples (the dark Emperor Jade Pagoda in Ho Chi Minh comes to mind). Dried herbs (ginger, aniseed). Cigars. Also bramble, black cherries, figs, prune preserve. High-end Oloroso. Lacquered barbecue meat. Excellent.

Mouth: strong and concentrated. Heavy oak, pine resin, fruit stems, very dark pu-erh tea. Dry alright, a bit tannic, but there's also plenty of chocolate chips, liquorice candy, raisins and toffee to bring a little roundness. Sandalwood and leather again. Green tea. Mint and menthol. Hints of ponzu acidity. Walnuts and hazelnuts.

Finish: very long, dry with toasted oak, dark dried fruits but this hint of acidity as well.
Up there with the best Karuizawas I've tried. It's quite stunning how they can combine extreme complexity with such an amazing strength. I've seen different prices ranging from € 3500 to € 8000. Thanks my Taiwanese friend!
Score: 94/100