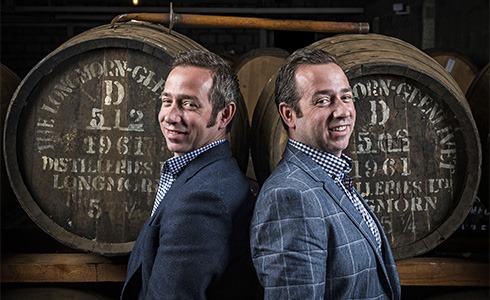 Stuart and Richard Urquhart, the managers of Gordon & MacPhail, are identical twins. That makes it extra special that today they are launching 'Twin' Longmorn 1961 whiskies, the oldest Longmorn single malts ever released. A great opportunity to taste a piece of Scotland's liquid history.
Both are first-fill sherry hogsheads filled 2nd Februrary 1961 and bottled exactly the same day in 2018 at cask strength: European oak cask #508 bottled at 45% ABV and American oak cask #512 bottled at 40.8% ABV. Sold as a pair, with only 97 sets of decanters available.
Each set will be priced £ 30,000 or around € 34.000. You can find out more at https://www.gordonandmacphail.com/longmorns/
Longmorn 57 yo 1961 (40,8%, Gordon & MacPhail 'Private Collection' 2018, cask #512, 97 btl.)
Nose: quite intense despite the low strength, and ultra-classic. raisins and figs with cherry preserve and a fresh layer of mint and orange peel. Surprisingly fruity really. Subtle vanilla and marzipan. Blackberries and cherries. Tobacco and just a hint of oak char.

Mouth: fresh, with Seville oranges and mint and a whole layer of charred notes, earthy spices and dark chocolate. Dry with plenty of oak, but not in a harsh way. Liquorice, walnuts and deeply infused black tea.

Finish: long, dry and leafy with echoes of blackberries and plenty of charred oak.
This is the fruitier sibling, especially on the nose which is just fabulous and worth smelling for an hour or so. Nice to drink, not over-oaked but you'll have to withstand some tannins anyway. For me this one has the edge.
Score: 91/100
Longmorn 57 yo 1961 (45%, Gordon & MacPhail 'Private Collection' 2018, cask #508, 97 btl.)
Nose: more towards cedar oak or polished teak, cigar leaves and oriental spices, although the fruity layer is still there. Prunes, raspberry, figs and marmalade. Similar marzipan notes. Walnuts and coffee. Hints of old rum and Armagnac as well. Less vanilla here.

Mouth: similar thoughts, the oak gets the lead with a more tannic feeling here, although the higher strength balances it to a certain extent. Cigar boxes, marmalade and walnuts. Liquorice roots, dark tea, chocolate. Hints of dark roast (bitter) coffee towards the end. Some oranges but little other fruits.

Finish: long, spicy, on blackberry, tobacco leaves and bitter cocoa.
More spicy and bitter notes than its twin sister. Together with the polished wood this gives it a more oriental profile. Quite an experience again, but the bitter wood in the finish prevents me from scoring it higher.
Score: 89/100