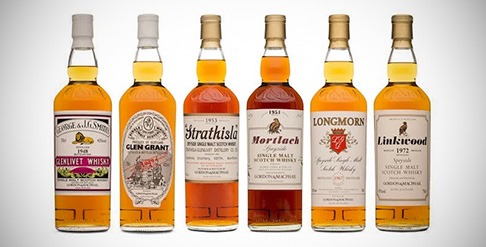 I can't think of a whisky broker / bottler that is able to match Gordon & MacPhail when it comes to legendary old stocks. We've had some great examples in the past months: Strathisla 1967, Glenlivet 1974, Glen Grant 1954…
Recently G&M launched the Speyside Collection, an exclusive series of six whiskies from Speyside's finest distilleries (each of which has been available on its own in the past, if I'm not mistaken). They are distilled between 1947 and 1972 and bottled at 40 or 43%. Only 75 sets are available for an impressive € 12.500.
We're trying one of the whiskies from this collection, a Mortlach 1954 bottled in 2012 from a first-fill sherry butt.
Mortlach 58 yo 1954 (43%, Gordon & MacPhail 'Rare Vintage' 2012, first-fill sherry butt #494, 347 btl.)
Nose: exceptional. I was struck by the fruity notes: fragrant apricots and raspberries, pink grapefruit, lovely sweet pineapple cubes, cherries… Also vanilla and rum & raisins. Behind this there is a savoury side, with honey glazed ham, some leather and herbal notes. Aniseed. Walnuts. Something of ladies powder too. And big hints of polished oak and waxed papers.

Mouth: much more herbal now, lots of tobacco notes as well. Dark black tea. Yes, there's a tangy sourness and a sappy 'oak juice' feel to it, but without the tannic / drying side. Then it turns towards pink grapefruits, dried pineapple and kumquats. Liquorice and leather. Blackcurrant leaves. Burnt sugar. Hints of Armagnac. Walnuts again, as well as nutmeg and lemon zest.

Finish: very long, with nuts, thyme, liquorice, marmalade and tobacco.
One of the best noses I've had this year, if not in my entire track list. The palate is frankly woody but not too tannic – already a great achievement – and not as meaty as expected. Simply great old-style whisky, though bottled a tad late in my opinion. Still a lovely experience. Around € 2000.
Score: 93/100