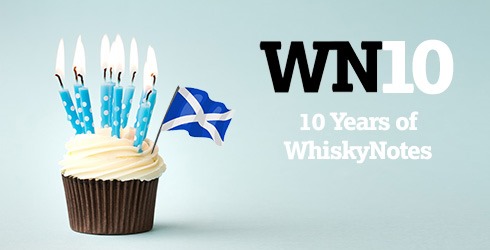 That's right, 10 years already since I started WhiskyNotes.
It all started with a Balvenie 30 Year Old – and the idea now is to top everything we've had before.
We'll start with a very recent bottling by Gordon & MacPhail of the oldest Caol Ila ever released, from the legendary 1968 vintage.
Caol Ila 50 yo 1968 (52,5%, Gordon & MacPhail 'Private Collection' 2018, refill sherry hogshead, 190 btl.)
Nose: a very luscious and rather honeyed fruity side. Yellow raisins, cantaloupe, fruit tea. Light buttery notes (vanilla cake) before it moves towards linoleum, camphor and mentholated notes. Some paraffin. Very delicate smoke and subtle coastal notes (wet stones). Herbal touches and lightly roasted almonds. All so silky, but not tired in any way.

Mouth: punchy again, with a very vibrant fruity flash in the middle. Yellow apples, cranberries and Seville oranges, mixed with briny notes and soft brine. Mint and warming spice (ginger, pepper). Very subtle hints of old, smoky Oloroso. This salty and sooty side keeps strong while the rest slowly fades. Late lemon notes and flax.

Finish: quite long, fresh and minty, with bonfire and smoked lemons.
A rather wonderful release, proving that there's no real upper limit to ageing when it comes to Caol Ila. Not cheap of course (around € 8500) but fitting whisky for this kind of celebration. Now available from The Whisky Exchange and Master of Malt.
Score: 94/100
Next up, Macallan 1954 bottled in the late 1960s for the Italian importer Rinaldi in Bologna.
Macallan 1954 (80° proof, OB / Campbell, Hope & King Ltd. late 1960s, imp. Rinaldi Italy, sherry wood)
Nose: sumptuous sherry maturation, in a very balanced and complex way. Quite punchy as well, given the 46% ABV. Ripe bananas, some vanilla and cocoa. Roast coffee. Then more resinous notes, wet gravel, a hint of shoe polish and plenty of eucalyptus. Oil paint. Light tobacco and leather. Whiffs of mint-flavoured tea and bitter oranges.

Mouth: surprisingly minty, with a charred note in the background, espresso and some red berries. Sultanas and tangerines. Heather. Some black tea and dried herbs. Nice bittersweet balance.

Finish: medium long, on tea notes, dark chocolate, liquorice and a puff of smoke.
A bit dry compared to other Macallans from this era (more charred oak, less sherry sweetness), but a magnificent profile nonetheless.
Score: 94/100
Finally I will also be trying this very famous Port Ellen 12 Years bottled by James McArthur, an Glasgow bottler founded in 1982 with a clear focus on rare of rather unknown distilleries. I believe they stopped around 2015.
Although not everyone agrees, the back label mentions the re-opening of Port Ellen in 1967 and suggests the distillery is still operational, so the whisky is most likely bottled in 1982 or 1983 and not the late 1980s?
There are two versions, a pale version at 62,7% and this dark version at 59%. One of these whiskies that already fetched € 10.000+ in auctions years ago. A Holy Grail and one that you'll find a lot of praise and admiration for, but very little actual tasting notes.
Port Ellen 12 yo (59%, James MacArthur 'Fine Malt Selection', dark version for Scoma, 75 cl)
Nose: a myriad of aromas and a sublime combination of peat and sherry. Muscular diesel oil, tarry notes and soot, a little concrete. Dried herbs and mint, but also an almost jammy fruity side. Blackberries, plums, rhubarb tarts with caramelized nuts. Black Forest gateau. Subtle medicinal notes, hints of Chartreuse. Fatty, waxy notes too. Lots of tobacco as well. Intense but also perfectly civilised and balanced.

Mouth: more powerful now, with a good dose of sooty peat and such intense ashy notes. Beautiful. Some kippery coastal notes. On a second level there are dark berries, almonds, cocoa and plenty of tobacco. Liquorice, a little cough syrup and Lapsang tea. Hints of petrol. Getting earthier and salty towards the end.

Finish: very long, on ashtrays, slightly bitter herbs
It started with a superb balance on the nose and then an impressive intensity on the palate. A Holy Grail indeed, on par with that Laphroaig 1967 Cadenhead that I never wrote tasting notes for…
Score: 97/100