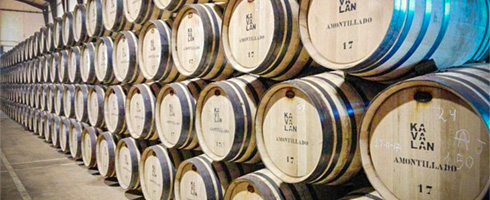 Amontillado casks, one of the rarest types of sherry casks used for maturing whisky. If you understand how modern sherry casks are seasoned for the whisky industry, then it is not surprising that Amontillado is not commonly used: this type of sherry starts its life as a Fino or Manzanilla and then undergoes a second phase of oxidative ageing, bringing the total age to at least five or six years, often ten years or more. The wine is more expensive so the cask will be more expensive as well.
I believe there is another reason: of all types of sherry, Amontillado is probably the closest to whisky in terms of aromas. There's apricot, hazelnut, tobacco and a kind of polished roundness, not unlike a well-aged whisky. If you use this cask for the maturation of whisky, you're basically adding more of the same flavours, including more oak. It's less complementary and I find the result often a little underwhelming.
Now and then I'm hosting a 'sherry vs. whisky' tasting for whisky clubs and it's always a tough task to include an Amontillado matured whisky. If I find one (often the Arran Peacock for Juuls), it's never the highlight of the tasting… yet I'm constantly looking to refine my knowledge about sherry casks so I was keen to try this Kavalan Amontillado Cask some time ago.
Casks are supplied by the well-known cooperage Tevasa in Jerez. The Amontillado itself is sourced from Bodegas Barón in Sanlúcar (an overaged Manzanilla if you like).
Kavalan Solist Amontillado Cask
(56,3%, OB +/- 2017)
Nose: nicely aromatic and elegant, but not very different from a bourbon-aged Kavalan. Dried apricots, plenty of polished wood, mostly cedar. Slightly tangy oak even. Leathery notes. Almonds and walnuts. Brown sugar and honey. Vanilla cake. Some hay and spices as well. After some time a slight exotic fruity note comes out.

Mouth: strong, woody and very nutty. The leathery feel gets stronger and picks up cloves and pepper. Hints of dried fruits (golden raisins, maybe dates) underneath. Hints of burnt caramel. Lots of spicy notes.

Finish: long, showing honey, toasted malt and a slight herbal edge.
Interesting, sure. I would say the cask added nutty notes, spices and perhaps an exotic woodiness. Like a Manzanilla cask though, it's more subtle as it lacks the opulent dried fruits of Oloroso or PX. Expensive stuff: cheapest I've seen is Master of Malt.
Score: 87/100