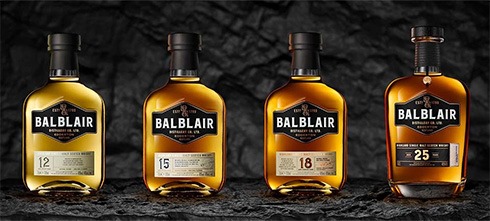 Balblair moved away from its vintage expressions in March 2019 and launched a new core range with age statements, following the rest of the market and making it easier for them to stay consistent, I guess.
We'll have a look at their offering, starting at the bottom with the Balblair 12 Year Old. It is matured in ex-bourbon casks as well as double-fired American oak casks.
Balblair 12 yo
(46%, OB 2018)
Nose: rather lightweight, fresh, citrusy and bourbonny, with butter cream, lemon meringue and floral honey. Sweet vanilla cake (of course), pears and muesli. Subtle hints of creamy peach yoghurt.

Mouth: easy and harmless. Lots of sweet malty notes, grapes and citrus, vanilla cake again and sweet apple pie. Creamy, honeyed notes. Then a little ginger and pepper, as well as lemon zest.

Finish: the dry and lightly bitter side of the oak grows stronger. Honey and nougat.
Not bad, but ex-bourbon casks tend to give this round vanilla and fruits combination, and this offers little more than that. Above all a well-made but safe composition, although I think even their youngest vintages (which were typically around 10 years old) offered a little more character. Get it here: TWE / Master of Malt.
Score: 77/100
Next up: Balblair 15 Year Old. This is a aged in ex-bourbon barrels and finished in first-fill Spanish oak butts. I've asked the distillery why they explicitly seem to avoid the term 'sherry' on all the new labels, but I never had a response.
Balblair 15 yo
(46%, OB 2018)
Nose: same style but it shows progression indeed. Juicy apricots, hints of raisins, plums and yellow apples. Rounder than its younger sister, with less of the (re-charred) oak edge. Oranges, touches of leather. Cinnamon and vanilla still.

Mouth: a creamy and rather fruity start (apples, peaches) with more oak spices along the way (clove, cinnamon) and a light earthy nuttiness. Subtle toffee, marzipan and milk chocolate towards the end.

Finish: medium, on nuts and spices.
It's clear that the Spanish finish had a nice influence, adding some weight and complexity. Best value for money in the line-up. Same remark though: it might be a tad too civilized to really stand out in today's whisky landscape. Get it here: Master of Malt / TWE.
Score: 84/100
And then Balblair 18 Year Old. It follows the same recipe: maturation in ex-bourbon casks and a finishing period in first-fill Spanish butts.
Balblair 18 yo
(46%, OB 2018)
Nose: the most aromatic and the most sherried. Apricot pie and poached pears, a little mango chutney and mirabelles, mixed with toffee and ginger. Some marzipan cake. Hints of sour oak and leather make it seem less sweet than its younger sister.

Mouth: same juicy fruitiness (including a light tropical edge – pineapple) moving towards raisins, chocolate cake and oak spice. Hints of walnut loaf and brown sugar.

Finish: medium length. The fruits seem to have faded, leaving the dry, earthy oak and cinnamon.
Although this 18 year-old is my favourite, having the nicest balance of juicy fruits and sherry wood, the added value over the 15 year-old is small. Get it here: TWE / Master of Malt.
Score: 84/100
I've always respected Balblair for its high production standards and consistent output (and for their refreshing vintage concept, I must add). However while each of the Balblair whiskies is well composed and nice to drink, I feel the new range is rather close together and relies more on wood influence than in the past, especially the 15 and 18 year-old which share the same maturation and character. In my opinion the Balblair 15 Years is the best choice in the new range.