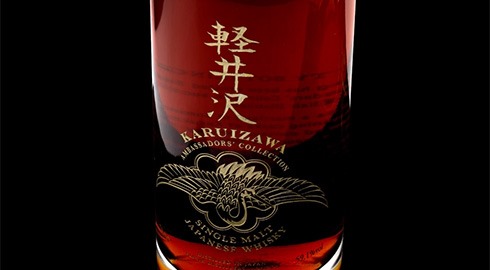 This bottle of Karuizawa is a marriage of some of the last remaining (sherry) casks from this distillery, distilled between 1972 and 1999. Only two bottles exist: one bottle was donated to a charity auction for The BEN, another one will stay in the Elixir Distillers archive.
Karuizawa Ambassadors' Collection 1972 – 1999 (59,1%, Elixir Distillers for The Ben, sherry casks, 2 btl.)
Nose: a whole room full of polished furniture, with scents of dark honey, menthol, moist tobacco, raspberries and cranberries. Hints of figs, black cherries and baked bananas. I've never been a big fan of the Asama bottlings but it's safe to say they are not playing a noticeable role here. Becomes increasingly leafy and woody, mainly sandalwood and hints of incense. Spot on.

Mouth: powerful and oh so oriental. Incense again, liquorice, mint and eucalyptus, dark chocolate, cinnamon and dates. Plums and roasted pineapple lift it up in the middle. Then back to nuts, mint and resinous notes. A few drops of herbal liqueurs too.

Finish: very long and herbal, with tobacco and precious woods.
Highly complex Karuizawa again, with muscular, oriental notes and so many tiny details. A wonderful donation to The BEN. Sold for around € 22.700 in the end.
Score: 93/100