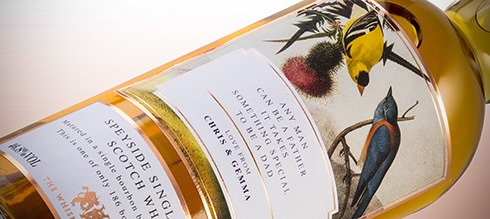 The Whisky Exchange already had a personalisation service where they can engrave some text on existing bottlings. Now they're taking it a step further, introducing four single cask releases that you can give a personal label.
Choose one of nine beautiful label designs (with nice metallic coatings), pick a quote and choose a dedication. It will definitely make a great gift, let's have a look at the whiskies they have on offer.
Bottles with personalised labels will be available all year round, but obviously distilleries, casks, ages etc. will vary.
Glen Elgin 12 yo (49,6%, The Whisky Exchange 2019, bourbon barrel, 306 btl.)
Nose: bright and fresh, full of juicy pears and creamy confectionary notes. Pineapples on syrup, lemon candy. Brioche bread and vanilla cake. Touches of honey.

Mouth: pears again, only now with added hints of candied lemon peel and ginger. Light menthol and vanilla. Lightly bitter, zesty notes. Pine wood and darker herbal notes.

Finish: medium, on oak spice, liquorice and lingering lemon and grapefruit.
Youngish malt revolving around citrus fruits and light oak. Not ground-breaking but a very sensible choice if you're looking for an easy-drinking summer malt.
Personalise this bottle over at TWE
Score: 83/100
Imperial 21 yo (46,8%, The Whisky Exchange 2019, refill hogshead, 294 btl.)
Nose: beeswax up front, a little paraffin and orange peel. Quinces, ripe yellow apples and peaches. Orange flower lokum. Acacia honey, sultanas, hints of hay. Almonds.

Mouth: a waxy profile again, with a syrupy fruitiness in the background and grassy touches. Light pepper and vanilla. Drier hints of fresh barley. Lemon skin, dried flowers. Some minty oak and a very light mustardy hint.

Finish: quite long, on wildflowers and oak spice, with lingering creamy fruits.
Warm and fruity. Plus, beeswax always works for me. Speyside whisky with mucho character and a reasonable price for this closed distillery as well, if you ask me.
Personalise this bottle over at TWE
Score: 88/100
Highland single malt 18 yo
(48,4%, The Whisky Exchange 2019, refill hogshead, 276 btl.)
Nose: dried fruits with a background hint of sooty smoke and unlit matches. Green tea and herbs. Sweet apples. Old dusty cloth. Not an easy one, but it kinda works.

Mouth: rather sweet, slightly dusty and gritty. The matchsticks are still here. Baked apples and raisin sweetness. Then more towards chocolate. Liquorice, aniseed and cold herbal tea.

Finish: medium, still quite chocolatey with mild smoke and oak spice.
A whisky that's hard to pin down, but there's more than a hint of Highland Park. Reasonably complex, with a true Islands character and some sherry influence.
Personalise this bottle over at TWE
Score: 84/100
Caol Ila 10 yo (51,2%, The Whisky Exchange 2019, refill hogshead, 294 btl.)
Nose: very clean and lemony. Lots of pure mezcal notes. Iodine and apple eau-de-vie. Beach bonfires and charcoal. Fresh kelp and limestone. Wet dogs. Totally spirit-driven, totally Caol Ila.

Mouth: same story, a bit more intense and peaty than expected. Clean smoke, menthol cigarettes, saltwater and smoked fish. Apple notes and zesty lemons in the background. Tarry ropes and just a hint of wasabi.

Finish: quite long, a little sweeter again. Big ashy notes and some lemon as usual.
I'm usually not the biggest fan of young Islay whisky but this is a great one. Clean and slightly reticent on the nose but very rich and ample on the palate. A cracking gift for peat lovers.
Personalise this bottle over at TWE
Score: 88/100