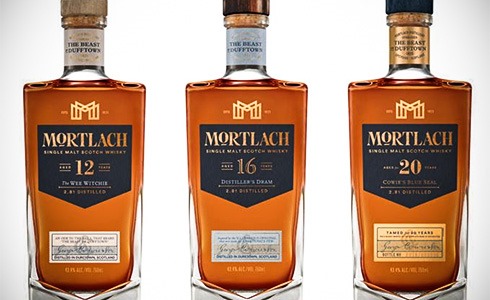 Let us call a spade a spade: Mortlach failed in their April 2014 relaunch. The quality was uninspired and the bottles didn't sell because the asking price was way too high.
The new range went back to 70 cl bottles, which are also priced much more reasonably (the 18 Years was € 350 when counting 70 cl, the new 16 Years is well under € 100) and I guess nothing really stands in their way now.
The Mortlach 16 Years is matured in a mix of first-fill and refill sherry casks. Of course there was the respected 16 Years Flora & Fauna, but this is not meant to be a follow-up for that expression.
Mortlach 16 yo 'Distiller's Dram' (43,4%, OB 2018)
Nose: intense but elegant sherry, totally fresh. Full of tarte tatin with cinnamon, berries, dried apricots and cherry candy. Toffee, a hint of marzipan and honey. Candied ginger. There's also a light earthy side and tobacco. Whiffs of polished oak. Really good.

Mouth: robust and more spicy, not extremely intense given the ABV but not weak either. Figs and raisins, hints of peaches on syrup, orange liqueur and baked apple. Then pepper, cinnamon and musty leather. A little wood char. Chocolate and mint. Gingerbread.

Finish: medium, on marmalade and honey, nutmeg and brown sugar.
Really rich and aromatic, with a fresh sherry influence and an attractive price. Robust but hardly any meaty notes. Mortlach is on our radar again: recommended. Available from The Whisky Exchange or Master of Malt for instance.
Score: 89/100
Update June 2019: I've been informed that the newer batch of this Mortlach (bottling code L9016DM001) is disappointingly different (confirmed on Whiskybase). It is a well-known strategy to come out with a perfect recipe and then follow up with compositions that are far less impressive. Sadly in this case there is no obvious batch mention on the label, so you'll have to watch carefully for an etched code on the glass.
Update: here is my review of the Mortlach 16 Years 2019 bottling