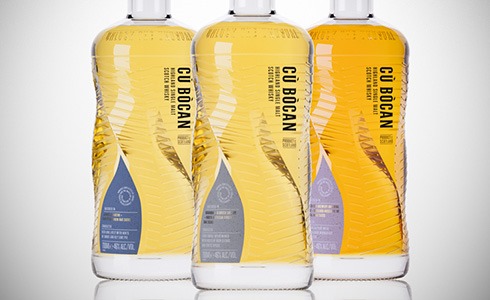 The Cù Bòcan range of lightly peated whiskies (+/- 15 ppm), produced in Winter for one month at Tomatin distillery has recently been relaunched. It now contains three expressions, presented in a nicely reworked bottle:
Cù Bòcan Signature: a combination of ex-bourbon, ex-Oloroso and virgin American oak casks (same as before)
Cù Bòcan Creations #1: matured in Black Isle Imperial Stout casks and Bacalhôa Moscatel de Setúbal wine casks
Cù Bòcan Creations #2: matured in ex-Shochu and virgin European oak casks
These last two have pretty funky recipes. More Creations will follow in the future.
Cù Bòcan Signature
(46%, OB 2019)
Nose: nice balance of carpenter notes, citrusy fruits and gentle smoke. Hints of vanilla, orchard fruits and a little toffee. Some heather honey and light aniseed.

Mouth: a nice citrusy brightness again, then also juicy pear and vanilla custard. Fairly light smoke again, hints of toffee and mocha towards the end. Cinnamon. Pepper and minty notes too.

Finish: good length, on smoke malt and oak spice.
Although the recipe is the same, this is better than how I remember the first Cù Bòcan releases. A bit youngish but a good option if you're into soft peat. Already available from Master of Malt.
Score: 82/100
Cù Bòcan Creation #1 (46%, OB 2019, Stout & Moscatel casks)
Nose: much more subtle than I expected, the finishing is not overdone, good. Light hints of coffee in the background, as well as leather. Red apples and hints of cassis. Orange juice and marmalade. Light chocolate and earthy smoke. Wider than the Signature.

Mouth: same combination of oranges, leather, espresso and peat smoke. Jaffa cakes. Cedar wood. Some herbal, bitter notes too.

Finish: long, still a bit acrid. Also hints of chocolate and clove.
I really liked the added character on the nose, but it feels less balanced on the palate. Bonus point for trying something unique though. Available from The Whisky Exchange or Master of Malt among others.
Score: 83/100
Cù Bòcan Creation #2 (46%, OB 2019, Shochu & European virgin oak casks)
Nose: grassy notes, plenty of lime and grapefruit juice. Zesty freshness. Green apples and hints of freshly cut green herbs. Like in the others, light wood smoke, nothing medicinal here. A little gingery prickle, walnuts and echoes of tequila.

Mouth: this seems slightly more narrow and slightly less powerful than the others. You get this citrus high note, a floral touch and European oak spice (clove, ginger) with light smoke, but it's a bit silent in the middle .

Finish: long, clean and slightly floral, on walnuts and spice.
Somehow this is a very clean, minimal version of Cù Bòcan which amplifies certain characteristics but on the other hand narrows it down. Available from The Whisky Exchange or Master of Malt among others.
Score: 78/100