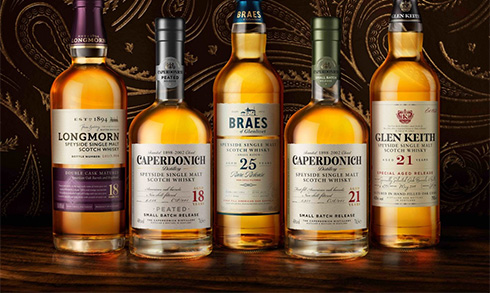 The Secret Speyside Collection
Pernod Ricard presented The Secret Speyside Collection, a range of 18 to 30 years old single malts from four distilleries: Caperdonich, Longmorn, Glen Keith and Braes of Glenlivet. Each of the distilleries has 3 expressions and from Caperdonich there are three more peated whiskies.
Braeval and Glen Keith have been mothballed in the past and Caperdonich has been closed entirely in 2011, so the whole range is playing the card of whisky that is rarely seen, calling them "hidden distilleries".
Prices seem reasonable, with a Longmorn 18 Year Old for around € 90, a Glen Keith 21 Year Old around € 150 and a top-of-the-range Caperdonich 30 Year Old (unpeated) expected in October 2019 for around € 850, with a lot of other offerings in between.
The entire range will be exclusive to travel retail until the summer of 2020, then it will become available in selected global markets.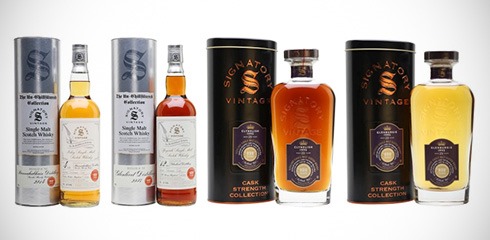 The Whisky Exchange 20th Anniversary (Signatory Vintage)
The Whisky Exchange is celebrating its 20th anniversary this year and is ready to release a whole series of exclusive bottlings throughout the year. First up is a range of single cask whiskies from Signatory Vintage. They all come with a custom label: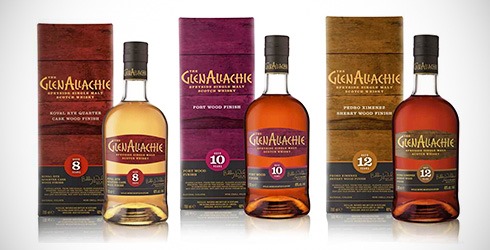 GlenAllachie Wood finishes
GlenAllachie distillery releases three new expressions, each finished in a different type of cask:
Also interesting
Things that may not have been widely announced but that grabbed my attention in shops recently…