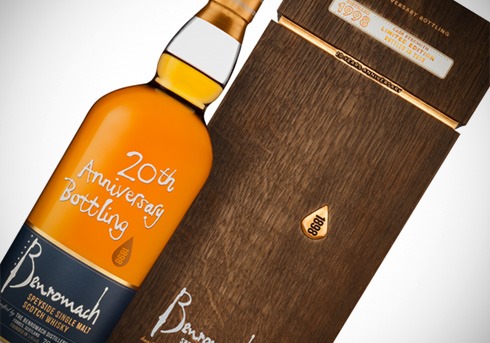 Benromach distillery celebrates a milestone today. In 1998 it was re-opened after being acquired and refurbished by the family behind Gordon & MacPhail. Happy birthday! This is celebrated with a Benromach 20th Anniversary bottling, a limited release of 3000 bottles, 400 of which will be sold at the visitor centre in Forres.
Although the packaging doesn't stress it, this is actually a 1998 vintage (of course), matured in first-fill sherry and bourbon casks, both European oak and American oak. It comes in a slightly different Benromach bottle, nestling in an elegantly lined wooden box with a book.
While I'm trying it, I have a recent batch of the benchmark Benromach 10 Years in a second glass, always nice to compare.
Benromach 1998 '20th Anniversary Bottling' (56,2%, OB 2018, first-fill casks, 3000 btl.)
Nose: more sherried than the 10, which means there's less of the mineral, smoky character, I find that a little disappointing. Some stewed fruits, oranges and sweet lemons, subtle berries and dried apricots. Vanilla. A little shoe polish and herbs. Whiffs of matchstick heads and gingery oak. Balanced, but it feels more modern (more first-fill) than the Ten.

Mouth: again mostly on active (sherried) wood, especially in a direct comparison. Fruit cake and brown sugar, citrus sharpness, then more gingery notes, bitter oranges and a faint salty edge. Nutmeg. Underlying hints of chocolate and toffee. More unique than the nose.

Finish: long, with leafy notes, spices and lingering bittersweet oak spices. Soft fruity notes make a come-back.
The quality is there, I just think the first-fill oak masks Benromach's unique character. The price of around € 350 is high, but it makes sense as a collectible bottling. Available from Master of Malt (soon others too). Let's repeat once more: Benromach 10 Years is a must-have (especially for € 40).
Score: 86/100