Whisky Sponge's latest feat is this trilogy of individual refill sherry butts of Clynelish. All three were distilled in 1995 and aged for at least 25 years. They were selected from the Signatory Vintage warehouses and bottled at cask strength.
They're meant to be highly distinctive takes on the ultimate cult single malt, from the palest, most pure and nakedly waxy expression to the murkiest, dark and sticky sherry monster. Prepare for a very nerdy session.
Clynelish 25 yo 1995 (54,5%, Whisky Sponge 'The Descent of Sponge' 2021, refill sherry butt, 505 btl.)
Nose: the virtually non-sherried kind indeed. Lemons, mint, lamp oil, candle wax and hints of honey. Some chalk and clay. Gooseberries, even echoes of tinned pineapple in the background. I'm finding light vegetal touches (moss, buttercups) after a while, hinting towards a sherry cask, as well as a buttery note. Fatty, pure Clynelish.
Mouth: a moderately fruity start, mainly grapefruit and lime, with hints of Chenin. Quickly followed by chalky notes, paraffin and some mineral and coastal notes (maybe kelp). A light green note (peppers). A nice balance of sweetness with the right amount of austerity.
Finish: quite long, waxy, citrusy, with lightly sweet stone fruits and mineral notes.
A classic Clynelish that is easy to like because it's full of waxy notes, minerals and citrus. However, if you're looking for the purest of Clynelishes, then maybe a bourbon cask is even more appropriate? This one was released last week for £ 350, now sold out.
Clynelish 26 yo 1995 (57,7%, Whisky Sponge 'The Descent of Sponge' 2021, refill sherry butt, 532 btl.)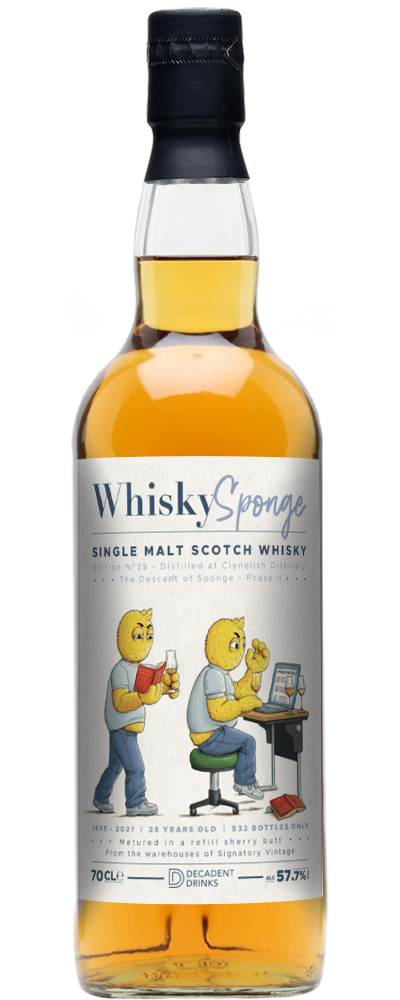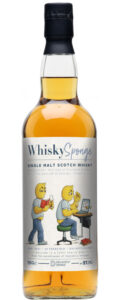 Nose: a step up in terms of richness. Starts on porridge and sunflower oil, then some linoleum and waxed papers, but after some time also a fruity sweetness which includes a few golden raisins and a hint of apricot. Subtle almonds and walnuts. A hint of oak polish too. Less typical waxiness perhaps, but more complexity.
Mouth: similar thoughts. More sweetness, richness and more polished oak to round it off further. Oranges, apricots, hints of ginger and leather. A lightly herbal edge. Still a great greasy layer and waxy citrus. Getting drier towards the end.
Finish: rather long, more minty now, with some tangerine and drying chalk in the very end.
Here the wood was a little more active, which seems to turn up the volume. Definitely a richer profile, more sherried albeit without the typical Oloroso character. Complex and balanced, right up my alley.
Score: 90/100
Clynelish 25 yo 1995 (56,6%, Whisky Sponge 'The Descent of Sponge' 2021, refill sherry butt, 528 btl.)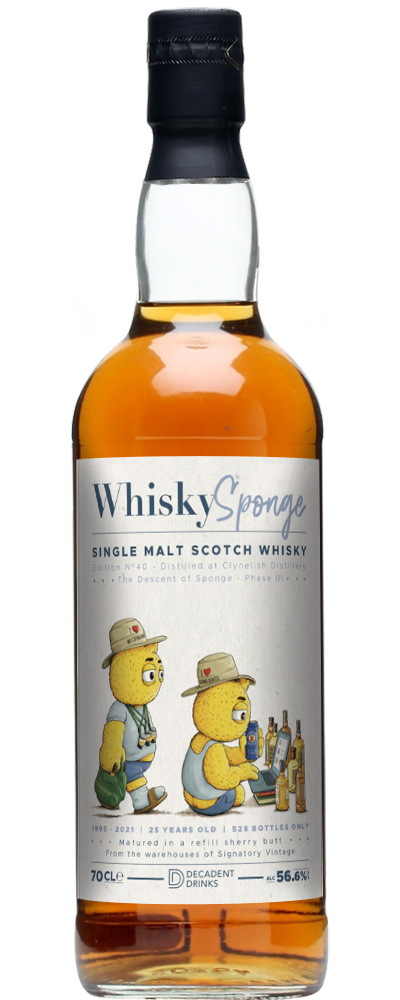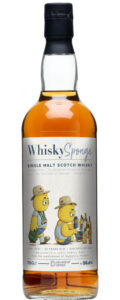 Nose: wowsie, that's pretty dirty. Meaty notes, Maggi, miso soup, cooked veggies. I sometimes get this in very old bottles of Oloroso sherry as well, let's give it some air. After fifteen minutes, it got more herbal but it didn't lose the umami side. Walnuts, mushrooms and mulching leaves.
Mouth: a lot of umami elements again, like tobacco, leather, parsley and hints of roasted chestnuts. There's still a minty side to lift it, with herbal tea and a hint of salted liquorice. Some caramel and chocolate in the end.
Finish: long, with herbs, a salty note and lingering chocolate coated nuts.
Let's not get hung up on the sulphur – it's there and it's part of this style. I'm not a big fan but once I stopped comparing it to the others, it seemed to grow on me. It's certainly a good example of the kind of sherry casks Clynelish filled in the mid 1990s.
Score: 86/100