Pieter from Malternative Belgium has just released his new cognac bottlings. The first comes from Jean Fillioux, a respected name. The spirit distilled in 1965 was used for one of their blends and the remainder of cask #97 was re-racked into a much smaller cask until being picked up by Malternative.
The other one was selected from the cellars of François Voyer. It's the first and youngest in a small series of cognac "leftovers" taken from damejeannes, but this is so limited that it will not even appear online. It was bottled on the Belgian national holiday, hence the nickname La fête.
Cognac Jean Fillioux Lot 65 – Grande Champagne 'Avec Allure' (47,0%, Malternative Belgium 2021, 112 btl.)
Nose: plenty of juicy fruits. Nectarines, damsons, hints of preserved pineapples and whiffs of potpourri. Orange peels and marmalade. Tiny herbal notes and a warm woody undertone in the background. A great combination of fruits and more robust aromas.
Mouth: a tad more rough and wood-influenced now, although the fruits are still there. Oranges, tangerines, jammy apricots and hints of blackcurrants. A little peppermint, herbal honey. Liquorice and aniseed, with bittersweet notes and pinewood towards the end. Some earthy tea as well.
Finish: long and drying, with menthol and chlorophyl, fruits and hints of citrus green tea.
A lovely nose, punchy and rich. On the palate there's still a great fruity side but it feels woodier than some of the best Malternative releases. Available now for € 325 from the Malternative webshop.
Cognac François Voyer Lot 71 – Grande Champagne 'La fête' (43,1%, Malternative Belgium 2021, 40 btl.)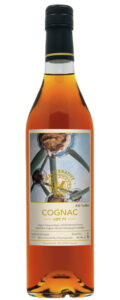 Nose: more delicate and refined. More on floral notes and beeswax, with the same juicy fruits underneath. Peonies, apricots, bananas and orange oils. Maybe rambutan. Orange blossom, mint leaves and verbena as well. Pure seduction.
Mouth: oh yes! So much finesse here. It's all on bergamots, verbena, guava, pineapple and passion fruit. More acidity and brightness, with a very oily texture and none of the robust spices and wood. I love this. The fruity refinement evolves towards herbal tea and more of these blossomy notes. Just a hint of cedar wood in the end, but overall hardly any wood.
Finish: long and light as a feather. Bright fruits, more berries now, even a tiny hint of cassis and lychee?
Absolutely delicious. A huge fruitiness and the light-footed elegance of a ballerina. Younger and less expensive (€ 240), this one gets my vote! Pieter will reserve a few bottles for future tastings, but unfortunately only the most loyal Malternative buyers will be able to get a bottle in order to complete their collection.
Score: 91/100