After our direct comparison of three Caroni 1997 rums, we're doing the same with four Caroni 1998 bottlings released in the past few months.
The first comes from Rum Sponge, the second from the Thompson Brothers. Then we have two bottlings that originated in Germany: one in the Liquid Treasures series, the other selected by the Wu Dram Clan.
Caroni 22 yo 1998 (57,1%, Rum Sponge 2020, heavy style / early landed, first-fill bourbon barrel, 258 btl.)
Nose: setting the bar high. Intense yet with a great elegance. Molasses, liquorice, cloves and a little petrol, but also fermenting tropical fruits and hints of polished furniture (even something that reminds me of heavy cognac). Metal polish and herbal tea. Vicks. Not the most phenolic version, but it's perfect.
Mouth: much heavier now, here are the phenols! Plenty of tarry notes, herbal potions, medicinal notes and cough syrup. Rosemary extracts, hints of salmiak and pine resin. Shoe polish. Burnt gingerbread. Black olive tapenade.
Finish: long, dry and phenolic, with caramel, tarry notes and herbs.
Another great rum selection. The nose started elegant and rather polished, but it really gets heavy on the palate. Best of both worlds, perhaps. In any case it doesn't always have to be 60%+ to make an impression, on the contrary.
Caroni 23 yo 1998 (59,2%, Thompson Brothers, 11 years Trinidad + 12 years UK, 256 btl.)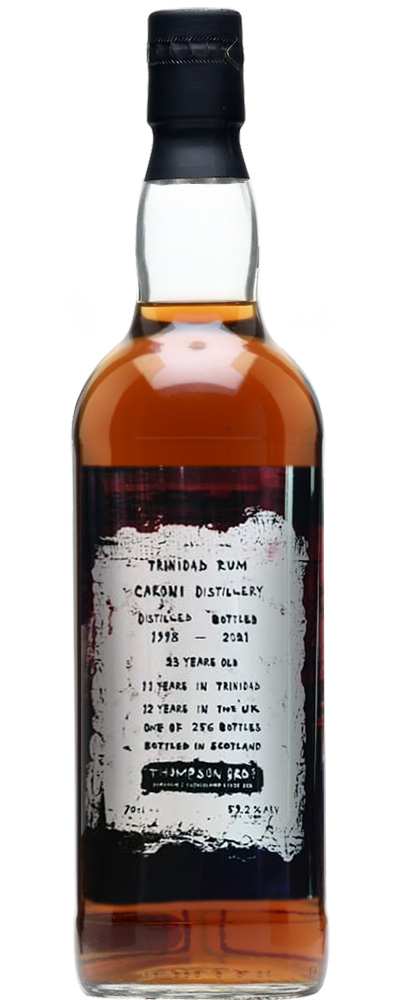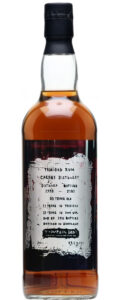 Nose: more straightforward and oaky. There's caraway seeds, liquorice and black peppercorns, alongside nice hints of diesel, varnish and roasted nuts. Whiffs of gingerbread.
Mouth: this one is so minty! Peppermint, eucalyptus and Vicks, this really tickles your nostrils. Then comes cinnamon, molasses and plenty of woody, sappy notes. Hints of Angostura bitters, rubber and petrol. Some salty notes as well.
Finish: long, dry, leathery, on oak char and plenty of spice.
This one leaves a charred oaky impression and is slightly more narrow than the others. It may not shine in this line-up, but the minty freshness on the palate is great.
Score: 87/100
Caroni 22 yo 1998 (60,7%, Liquid Treasures for NanYang & REJOBev 2021, bourbon barrel, 218 btl.)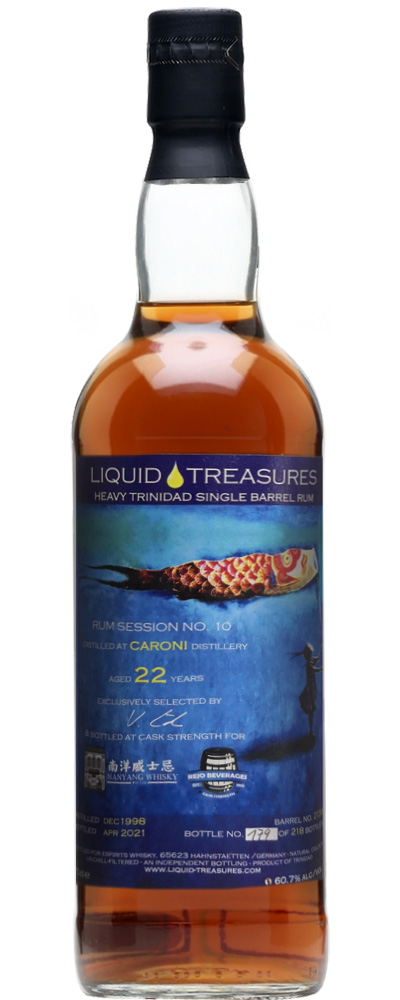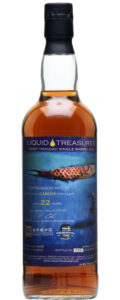 Nose: this one has more fruitiness again, but also a sour edge that holds the middle between olive brine and model glue. This fades though. Miso. Candied ginger. Whiffs of new plastics. Light pencil shavings and mentholated notes. Deep toffee as well. A bit of a slow performer, but it does convince.
Mouth: slightly fruitier again after the Thompson Bros, with less obvious wood but really heavy tarry notes again. Bitumen. Cedar wood and dried herbs. Nice sooty notes and petrol as well. A lovely combination of industrial notes with rounder, fruity hints.
Finish: long, dry, on pepper, cigar leaves and molasses.
This didn't make the best first impression, but unfolded nicely and became one of the most complex Caroni rums in this session. Still available in certain shops, like Whiskysite.nl or Whisky.lu
Score: 91/100
Caroni 1998 (62,2%, Wu Dram Clan 2021, cask #2109, 226 btl.)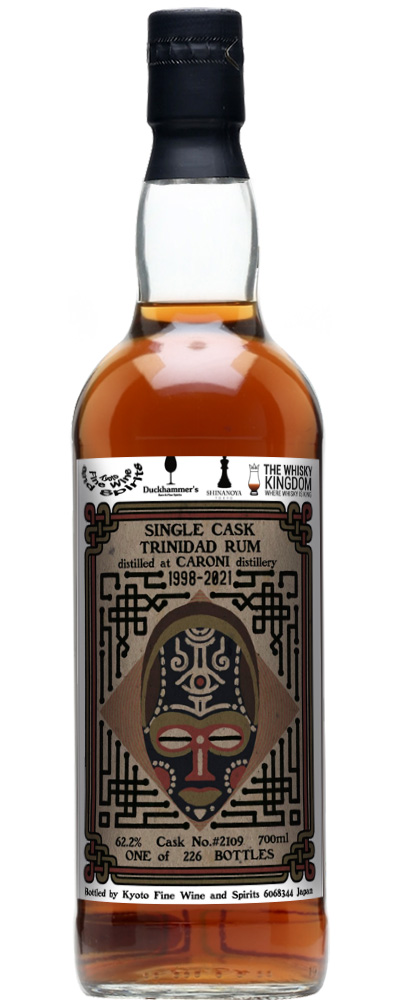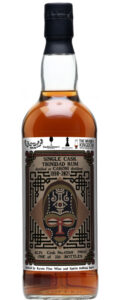 Nose: as the strength rises, they become more medicinal. Sawdust, eucalyptus, crushed pepper. After a while it starts to show citrusy notes as well as red berries and plums. Cinnamon. Whiffs of camphor and pencil shavings, always with deep molasses and fermenting bananas underneath. Really good.
Mouth: special. This opens on a nicely bright fruitiness (citrus with baked banana, but also blackberries) before it gets darker and oakier. Petrol notes and a great layer of varnish and cedar wood as well. Pepper, cinnamon and liquorice. Toffee and herbal honey. Excellent.
Finish: long, slightly sweeter than some of the others. Caramel, light medicinal touches and a faint metallic note.
Despite its strength this Wu Dram Clan bottling comes out more balanced than some of the others, especially on the palate. It's wide and shows some fruits alongside the typical petrol and herbs. Another winner, but sold out, as far as I can tell.
Score: 91/100