The most reliable and delicious Bruichladdich ever made. That's the promise behind the latest Whisky Sponge bottling. It is a 2001 vintage (the resurrection year) matured in first fill bourbon wood. We also go back in time a little with a Ballechin 2003 and a Craigellachie 2006 which was the Winter 2021 bottling in the Equinox & Solstice series.
All three are part of Angus' plunderings of the Signatory Vintage warehouses. The latest estimates predict they will only contain rubbish by mid 2024.
Bruichladdich 20 yo 2001 (50,9%, WhiskySponge 2021, first fill barrel, 161 btl.)
Nose: the typical Laddie mix of dusty grains, greasy old tools, sunflower oil and warm minerals, as well as sweet banana notes, citrus and a hint of vanilla. Yellow apples and a hint of honey. Subtle mint. There's a kind of 'background smokiness' too, like we find in 30+ year old Caol Ila for instance.
Mouth: the smoke is bigger now, but the overall profile is tighter. Again a mellow fruitiness (melons, apples, sweet citrus) with biscuits and some peppery heat, nutmeg and a light leafy bitterness. Honeyed herbal tea. Still this dusty edge.
Finish: long, oily and herbal, with dusty barley, mint and honey.
This is a very good example of Bruichladdich's specific style, with a true sense of 'antique' alongside fruity sweetness and subtle herbal notes – here in a very integrated way. It's really expensive but Laddie fans will definitely rejoice. Now available from Decadent Drinks.
Craigellachie 15 yo 2006 'Equinox & Solstice' (48,5%, Decadent Drinks 2021, first fill sherry hogshead, 412 btl.)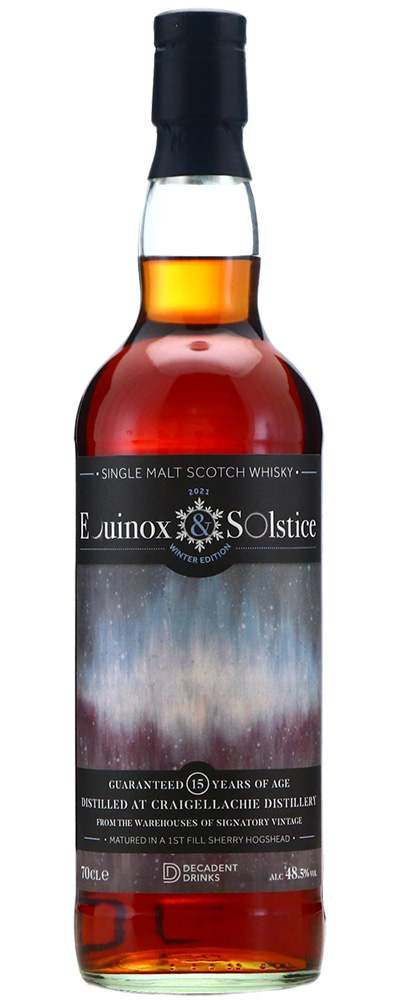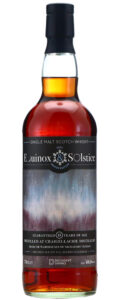 Nose: cassis syrup, forest fruits jam and a truckload of prunes. Also chocolate cake and cinnamon rolls. Mon Chéri. Hints of tobacco and treacle. Coffee grit. Mossy notes. Wet felt. Slightly bulky, lacking some of the brighter fruity notes.
Mouth: still focused on the darker sherry notes. More coffee, hints of Kahlua cake, blackberry jam, raisins and tobacco leaves. Still a syrupy hint of black cherries, chocolate, later also roasted nuts and toast. Black pepper too.
Finish: long, on oak char, dark fruits and chocolate coated mints.
While this is not a dirty cask, it's not a bright type of sherry either. It is a sherry bomb with a big umami side, perfect for a wintery evening. Sold out. Score: 85/100
Ballechin 18 yo 2003 (48,5%, WhiskySponge 2021, refill sherry butt, 353 btl.)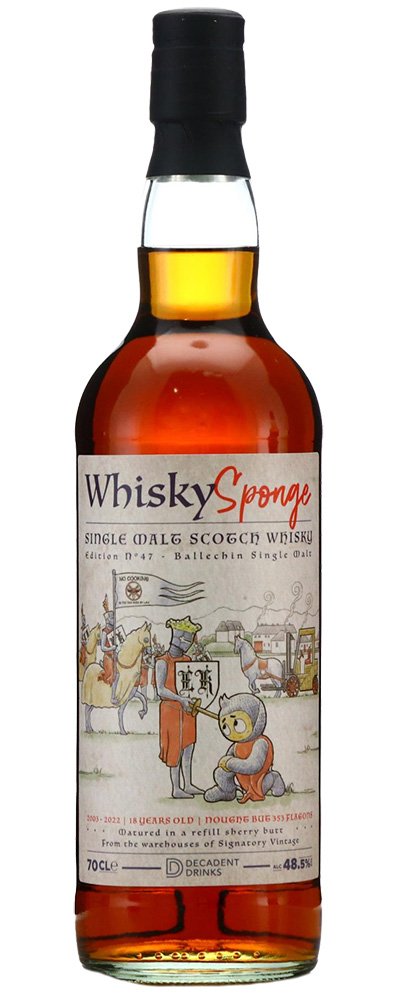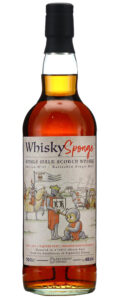 Nose: smoked meat, like bacon on a barbecue, with smoked Lapsang tea and leather jackets. Pink pepper, rubbed walnuts, hints of camphor. Some heathery notes and wee metallic touches. Over time a sharper, almost pickled kind of peat develops, with a hint of cranberry.
Mouth: the leathery, chocolaty side and the ashy fireplace combine well with these sharper, almost acidic (Madeira-like) notes. Walnuts, sour plums, Demerara sugar, mint, as well as berries and menthol. Hints of antiseptics and coal smoke. Really good.
Finish: long, on black tea, leather, brown sugar and cold ashes.
This is a great Ballechin. There's deep smoke but also a nicely acidic kind of sherry involved, adding elegance and width to its powerful base. Now available from Decadent Drinks. Score: 89/100