I couldn't attend the Whisky Fair in Limburg this year, as I was travelling to Canterbury and London on the same weekend, a trip that had been planned two years ago. However, Martin from Maltbarn was kind enough to send me a few samples of his selection of bottles that were presented at the festival.
We start with a 20 year old Port Charlotte 2001. Twenty years already – this must be the oldest version I've had so far. I still remember my first bottles of PC5 and later PC6 which was also a 2001 vintage.
Port Charlotte 20 yo 2001 (54,9%, Maltbarn 2021, bourbon cask, 135 btl.)
Nose: a really nice, deep yet fairly gentle smokiness mixed with a fresh minty breeze. Hints of wet gravel and olive oil, as well as some medicinal notes. Smoked leather and paprika. Sweeter notes underneath, as well as some vanilla. The age makes this a highly integrated, complex Port Charlotte.
Mouth: bigger than expected, this is still very punchy. A lot of warm smoke, iodine and smouldering barbecue. Sweet fruity notes in the background. Then in the foreground spicy notes build up (pepper, clove) with a hint of sweet ginger, drying seaweed and sheep wool. Very ashy towards the end.
Finish: long, with lots of coal dust, pepper and a bittersweet oily note.
Really nice. It's a superb distillate that hasn't lost any of its power after twenty years. Good complexity and richness. Recommended. Check Maltbarn for more details (although this bottle isn't mentioned on the website yet).
In one of the previous batches of Maltbarn we also found this Bruichladdich 2006 which was bottled for Whisky & Words, apparently a whisky den in the Central district of Hong Kong. Somehow my review didn't come online back then, so let's add it now as a bonus.
Bruichladdich 14 yo 2006 (54,3%, Maltbarn 2020, sherry cask, 160 btl.)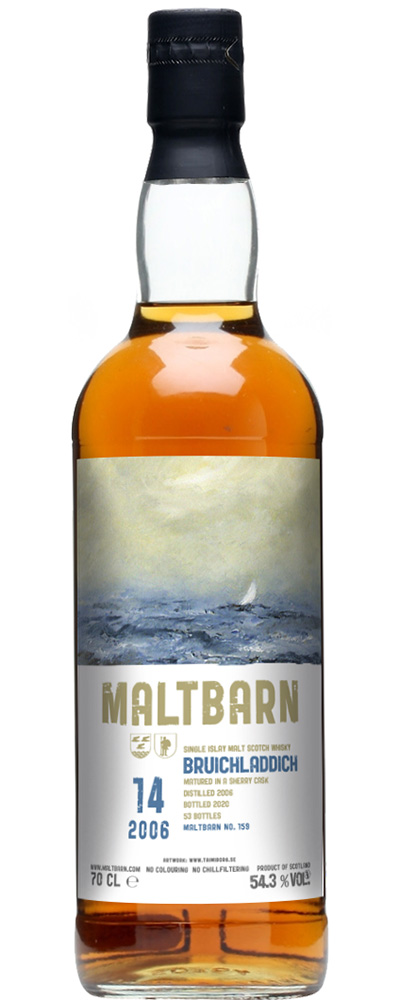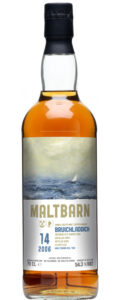 Nose: classic Laddie complexity. There's dusty barley, sea air and whiffs of melons. Also mineral oils, wet fabrics and putty, almost a gentle version of Springbank. Light grassy notes, broken branches and subtle farmy touches as well. I like this style.
Mouth: same thoughts. It's sharp and focused at first, with lots of oily notes and minerals, white pepper and hay, but also warm fruity traces in the background. Melons, then grapefruit. A little mint and juniper berries, as well as some sherry-related spices like nutmeg.
Finish: long, still spicy, with lingering minerals and farmy touches.
A really great selection, it shows an intense, classic Islay character albeit without the smoke. A lovely character, definitely from a great cask. I assume all bottles have found a home already. Score: 89/100