There's always Caol Ila on our desk and once in a while, a certain sample triggers me to do another session. In this case it is the latest WhiskyNerds bottling, a Caol Ila 2011.
I'm pairing it to other 2010 and 2011 spirit bottled by Signatory Vintage (for Whisky Live in Paris) and two versions from the Thompson Brothers (one for Kirsch Import, the other for Nickolls & Perks in the UK).
Caol Ila 10 yo 2011 (46%, Signatory Vintage for Whisky Live Paris 2021, first fill bourbon barrel #310866, 300 btl.)
Nose: sweet citrus comes out first, with a nice hint of peach on the side. Vanilla custard too. Slowly the smoky notes come creeping in. Warm ashes, iodine and roasted almonds. Really good.
Mouth: again a very balanced composition of vanilla, toffee and sweet malty notes, combined with ashes, seaweed, sweet citrus and hazelnuts. Despite the fairly standard strength, it doesn't lack intensity. Subtle woody notes towards the end.
Finish: quite long, on polished oak, wet rocks and hints of black pepper. Very nice hints of mocha and Chokotoff as it fades away.
A good one: very accessible with a perfect drinking strength. The peaches on the nose and the coffee / chocolate combo in the finish lift it up above the already high average quality of medium-aged Caol Ila.
Caol Ila 10 yo 2011 (52,7%, Thompson Brothers for Kirsch Import 2021, refill bourbon cask, 328 btl.)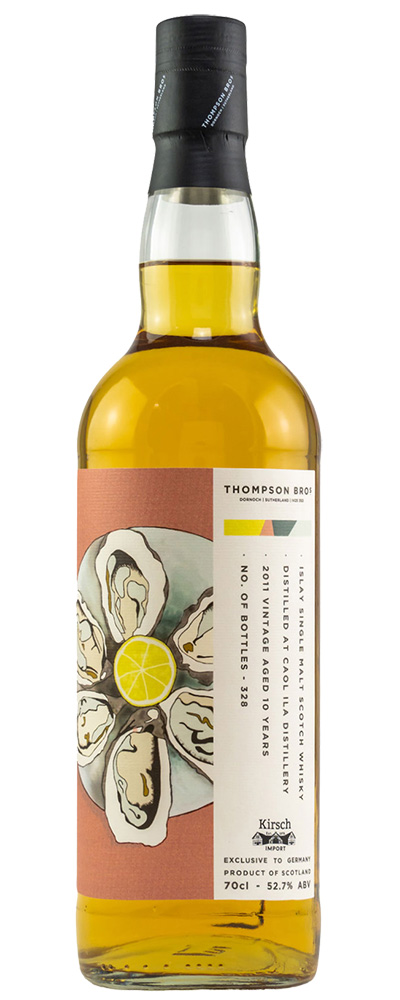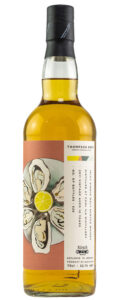 Nose: slightly less round, with a more rubbery aroma. New bicycle tires. Behind this there is a hint of dough and wet hay, as well as yellow apples and a wee lactic note. Sweet herbs. The smoke seems to be dialed down a little.
Mouth: a leafy / herbal start, with a bigger hint of campfire smoke coming out. Still a rubbery hint. Then sweet citrus and almonds, before it turns towards grassy notes and herbal hints. It feels a little younger than the Whisky Live bottling.
Finish: quite long, still showing a damson sweetness, alongside tobacco and sweet oak.
A slightly rougher version, with a few uncommon notes. Interesting and reasonably complex, this also has its merits. Still available in German shops for around € 70. Score: 87/100
Caol Ila 11 yo 2010 (54,8%, Thompson Brothers for Nickolls & Perks 2021, dechar / rechar wine hogshead, 298 btl.)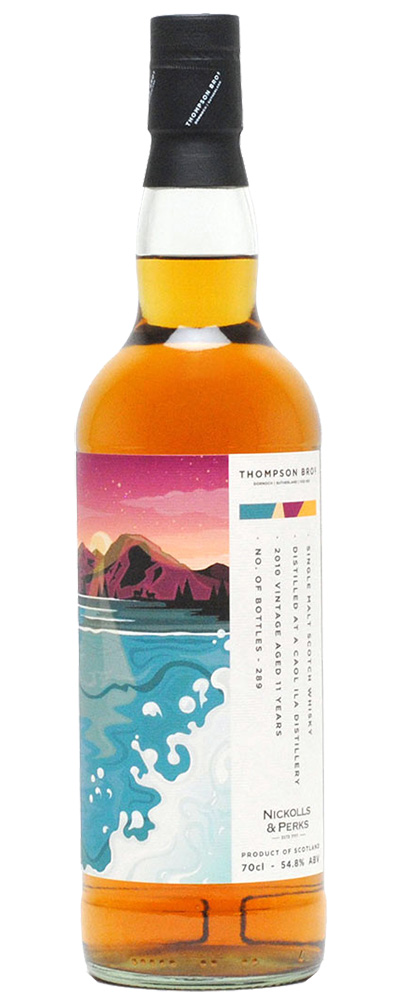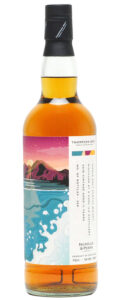 Nose: rejuvenated, so quite in-your-face. Earthy notes, fresh oak shavings, Mesquite wood and some smoky bacon. Mentholated notes in the background, as well as pepper and lemon.
Mouth: big smoke and big wood spice. Sea spray and beach bonfire, with hints of coconut and pencil shavings. Fresh vanillin with a pinch of salt. More barbecued meat after a while. Crisp lemon juice throughout.
Finish: quite long, on lemons, lingering bonfires and mercurochrome, light vanilla and a herbal note.
While this feels a little pressure-cooked, there's nothing to complain either. Punchy but perfectly clean. A little more woody influence though. Sold out. Score: 86/100
Caol Ila 10 yo 2011 (57,5%, WhiskyNerds 2022, sherry hogshead #5846, 326 btl.)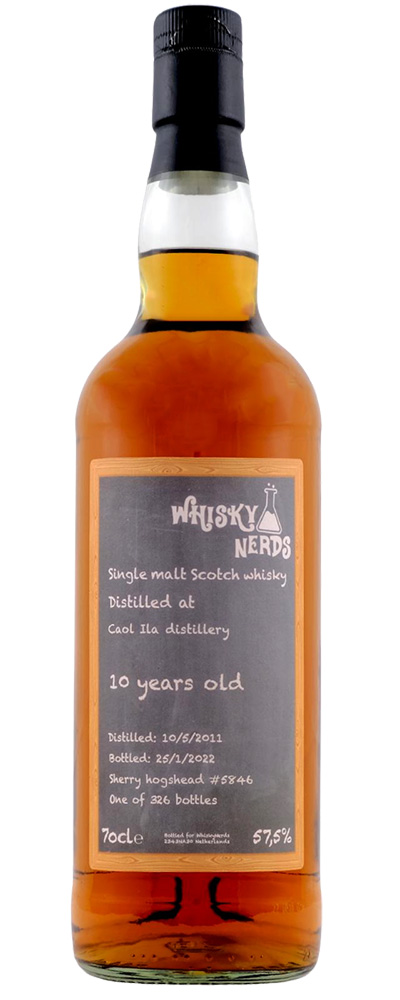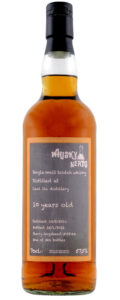 Nose: clearly more sherried. That means more tobacco notes, mixed with smouldering bonfire, hay, baked apples and a little burnt sugar. Here a hint of bicycle tire as well. Whiffs of Reypenaer XO, which are funny but kinda work. Getting quite minty after a while, and developing a hint of worn leather. Deep sooty notes (à la Springbank) in the background.
Mouth: oily and still showing a lot of tobacco. Instead of the expected sherry sweetness, it shows a sour touch, black pepper and a lightly bitter woody note. Herbal notes, menthol and quite an alcoholic footprint underscore this sharpness. Coastal smoke as well, but lighter than expected.
Finish: long, slightly hot and rough. Hints of toffee and tar, with lacquered bacon and black pepper.
This sherried version starts really well, with tobacco and leather adding complexity on the nose. On the palate I felt a little disappointed, as it's quite sharp. Maybe playing around with water helps, but my sample didn't offer me that chance. Not their best release in my opinion. Around € 100, sold out. Score: 86/100