Our occasional cognac review focuses once again on Prunier, a house that is quite popular among independent (whisky) bottlers. We start with a 1996 vintage and go back to the 1960s and 1950s, ending with a Lot 40.
All of these bottles are imported to Belgium by Wine4You. They have a huge range of Prunier cognacs, check our previous sessions here or here. Most (if not all) of the bottles we're trying today are general releases though, so they can be found in other countries too.
Prunier Cognac Vintage 1996 'Fins Bois' (49,5%, OB +/- 2021)
Nose: elegant, with a generous fruity base. Fresh oranges, apples and peaches. Oily notes and a few floral touches. A nice balance between earthy spice, subtle varnished notes and elegant fruits.
Mouth: a similar floral profile with some of the alcohol showing – there's a sharp edge that gives away its (relative!) youth. Stewed fruits, mainly nectarines and tangerines. Hints of mirabelles jam. Subtle rancio. Then it evolves towards liquorice, mint and resinous notes.
Finish: medium length, fresh and minty, with underlying white pepper and the lightest hint of oaky dryness.
A very pleasant profile, quite classic and all-round. Nice Fins Bois fruits and a vibrant, middle-aged structure with plenty of floral touches. Good start of this session, and a really good vintage. Around € 115.
Prunier Cognac Lot 68 'Petite Champagne' (54,1%, OB +/- 2021)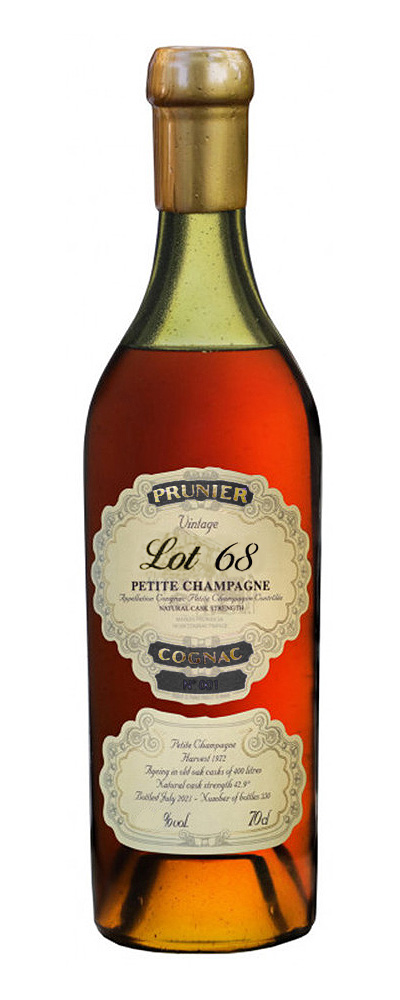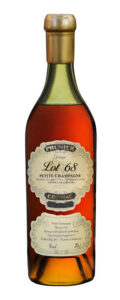 Nose: a more oily and leathery profile, less fruity than the 1996. I find more tobacco leaves, more rancio definitely, and a faint hint of almonds and marzipan. Subtle cinnamon. Lovely wood polish as well.
Mouth: indeed this lacks a bit of the fruits, instead showing more mentholated notes, aniseed and peppercorns. More almonds, as well as grapefruits. Whiffs of patchouli, incense and cedar wood.
Finish: medium, with a nice floral note, oak spice and a fresh minty hint.
Very elegant again, albeit more on the herbal and minty notes this time, with less fruits. Good punch too. Around € 390. Score: 88/100
Prunier Cognac Lot 56 'Petite Champagne' (52,8%, OB +/- 2021, 570 btl.)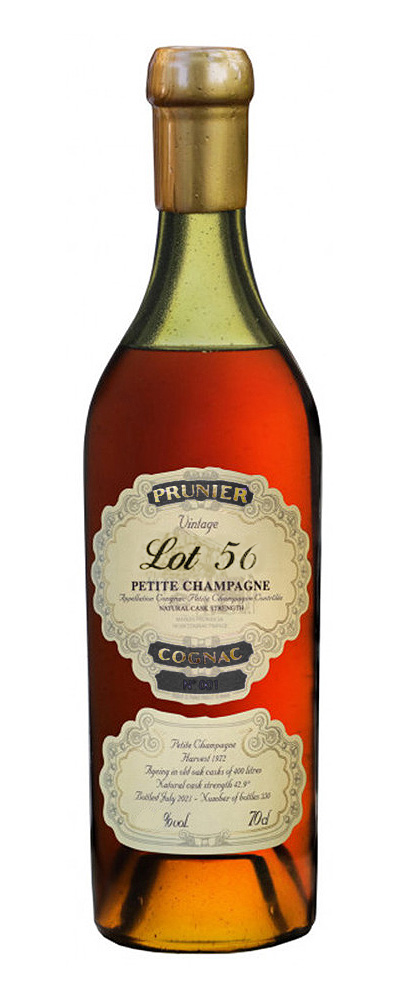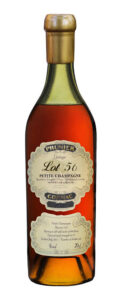 Nose: a tad subdued. There's sweet fruit tea with herbal notes, as well as some honeysuckle and hints of old cigar boxes. Citrusy Timut pepper. Spearmint. Still quite elegant, albeit less exuberant than the previous expressions.
Mouth: a more robust and tannic arrival than the previous two. On the other hand it also shows a beautiful wave of pink grapefruits, tangerines and apricots. Some toffee. Finally minty notes mixing with tobacco leaves and nutmeg towards the end.
Finish: quite long, mixing sweet notes (toffee) with an earthy / minty note.
This Lot 56 is slightly sweeter, which adds so much richness and hides some of the old woody hints. A very balanced, complex cognac. Around € 600. Score: 89/100
The next one is a sister bottling of a Prunier I had in a previous cognac session. However there are now 570 bottles available, so it may be a bigger bottling from the same cask(s).
Prunier Cognac Lot 51 'Grande Champagne' (58%, OB for Wine4You +/- 2021, 570 btl.)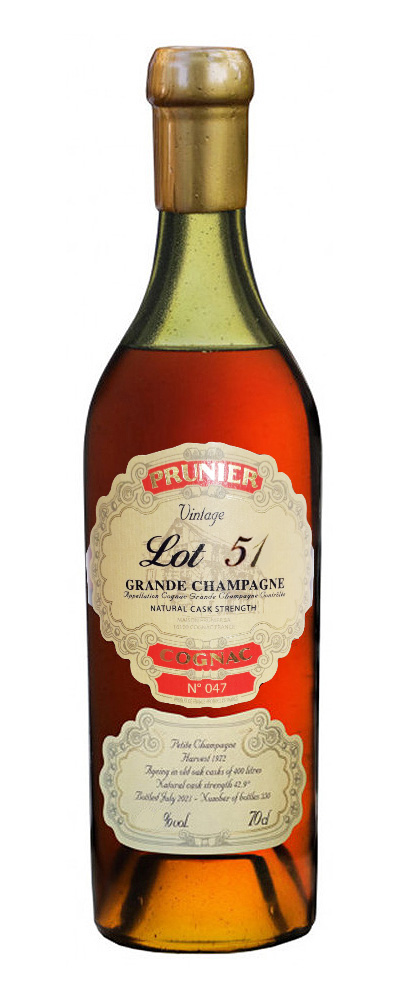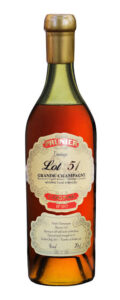 Nose: I'm getting the volatile diesel-like aroma again, which makes me think it's the same cognac. Subtle glue and oil paint. I like that. Rosemary, herbal honey and tobacco leaves in the background, as well as some stewed apricots, blood oranges and honey.
Mouth: really great. This has a burst of pink grapefruits, plummy notes, orange peels and other fruits. Maybe a hint of maracuja. Then some leathery notes, varnish, cloves and aromatic pepper. A dry, tannic and earthy edge as well, but it's not disturbing in any way.
Finish: long, vibrant, with herbal tea, rose pepper and stewed fruits.
Around € 580. It could be the line-up or simply a better bottling this time. In any case I'm adding one extra point. Recommended. Score: 91/100
The next one may ring a bell. Independent bottler The Whisky Mercenary recently did a Lot 40 bottling. The information I got is that it was a damejeanne bottling, while the one we're having today is a cask bottling. Maybe from the same batch, maybe not.
Prunier Cognac Lot 40 'Grande Champagne' (55%, OB +/- 2021)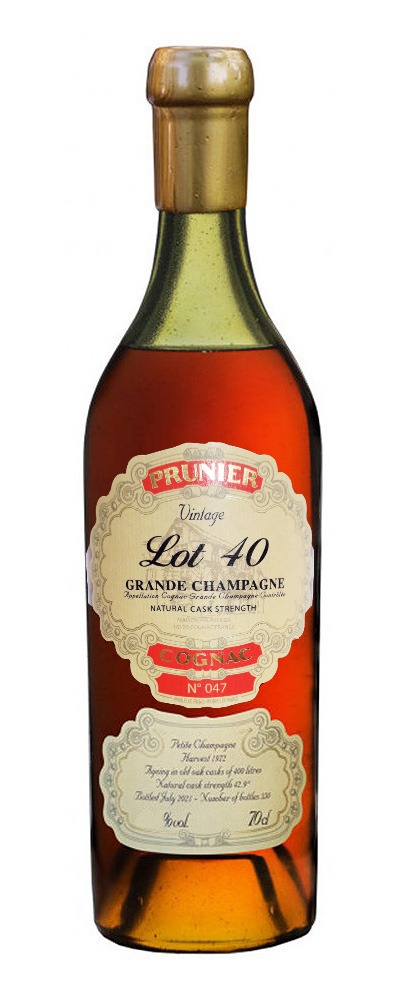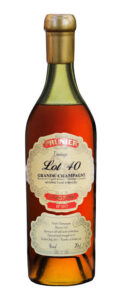 Nose: leathery notes, with orange blossoms and bergamot, as well as orange liqueur. Sunflower oil, hazelnuts and hints of cocoa. Some apricots on syrup, but it's not the fruitiest cognac ever. Hints of gingerbread in the distance. Elegant and flawless.
Mouth: some sweetness again, always a good sign when it's a very old cognac in my opinion. Then a glorious burst of pink grapefruits, passion fruits and mango. Candied orange peels. Peaches too. Minty notes. Hazelnuts, black pepper and wood tannins make it a bit drier, but overall it's simply delicious.
Finish: long, bright and fruity, with hints of fruit tea, more passion fruits and herbs.
This is quite heavenly. The brightness, the acidity, the fruitiness and various types of rancio. Around € 600 – if you're shopping in this price category, then you shouldn't hesitate. Considerably less expensive than the TWM bottling. Check Wine4You for more info. Score: 92/100