Some time ago Wine4You became the exclusive importer for cognac house Maison Prunier in Belgium. He decided to dive in with both feet, presenting about a dozen of single cask releases selected by The Purist, the name of his cognac venture. Some of them have already been reviewed here as they were exclusive to The Whisky Jury, but recently I was given a chance to try the others as well.
It promises to be a stunning tasting session, which we'll split in two halves. The first two bottles are standard Prunier releases, all others are exclusive to The Purist.
Prunier Cognac Fins Bois 20 yo (40%, OB +/- 2021)
Nose: rich and elegant. A lot of orange peel, hints of peaches and white flowers. Almond in the background, as well as some minty wood.
Mouth: a bit soft, but showing a lot of refinement. Floral honey, more citrusy notes, as well as caramelized nuts. Getting nuttier and drier towards the finish, with liquorice, hints of leather and chocolate.
Finish: not too long, but still refined, on leather and nuts.
A really nice cognac already. We almost wrote entry-level cognac but that would be disrepectful, this session just starts at a high level. Around € 115.
Prunier Cognac Grande Champagne 40 yo (40%, OB +/- 2021)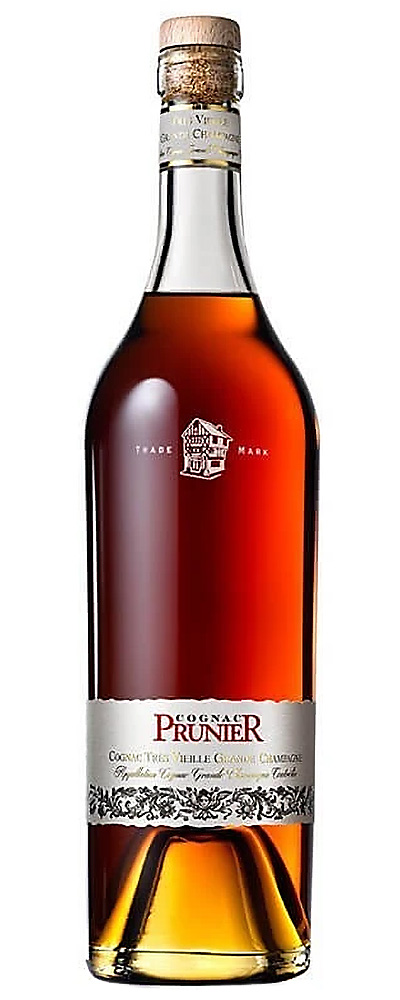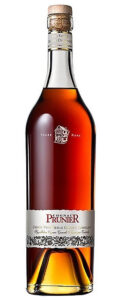 Nose: slightly more chalky and heady, with a more fragrant touch than the 20 years (almost perfumed) but a more subdued fruitiness. More leathery notes, hints of eucalyptus. Tarte Tatin in the background.
Mouth: clean, more rancio-driven. There's this fragrant, almost perfumed touch but also very nice pink grapefruit, apricot and fresh mint leaves. Subtle cedar wood. Very little tannins.
Finish: medium, rather clean and delicate. Ethereal fruity notes and fine wood.
It's a slightly peculiar, interesting profile, but for me it fails to deliver the higher quality that you would expect from the increased age and price. I would choose the 20 Years or go for the 1979 right away. Around € 155.
Score: 84/100
Prunier Cognac Petite Champagne 42 yo 1979 (53,7%, OB for The Whisky Jury 2021, 570 btl.)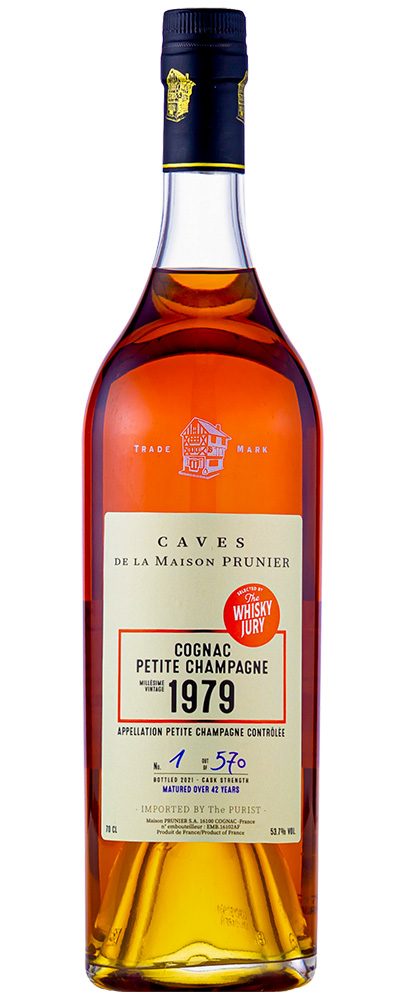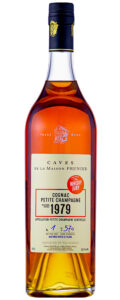 Nose: immediately two steps up, thanks to the lovely tropical fruits (peach, mango, mirabelles, pink grapefruits) and the hints of polished furniture. Subtle potpourri and herbal tea. Verbena and beeswax. Great.
Mouth: superb fruits (passion fruits, tangerines, peaches) with floral honey, blossomy notes, beeswax and fruit tea. More verbena. Rose petals. Lovely strength as well.
Finish: long, slightly spicier now, with lingering fruits and a subtle hint of resin.
You know what? We already had this one. It is exclusive to The Whisky Jury. Anyway, quality and score confirmed. Lovely stuff – a perfect benchmark for the rest of the 1970s expressions and a relative bargain at € 190.
Score: 91/100
Prunier Cognac Petite Champagne 43 yo 1977 (56,3%, OB for Wine4you 2021, 90 btl.)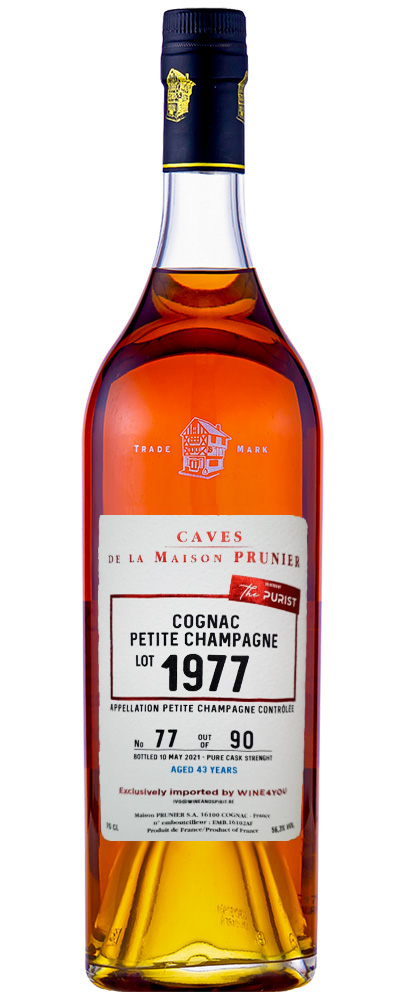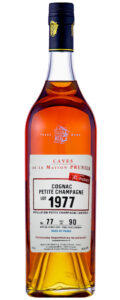 Nose: slightly more vanilla and more 'mundane' oak, but in a nice way nonetheless. Overall a bit sweeter too, with darker plums and spiced fruit bread. Quick whiffs of marshmallows. Floral honey and raisins. Light candle wax.
Mouth: certainly more robust than the 1979, with more spice and power. Fruit tea with a longer infusion time. Walnuts, hints of forest leaves and leather. Drying tobacco and hints of peppermint.
Finish: long, rather spicy, with an underlying caramel sweetness and leather.
A more weighty style than the 1979, with the oak getting louder and challenging the fruits. The complexity and balance are still great though, worth trying if you prefer punchy spirits. Around € 195.
Score: 87/100
Prunier Cognac Petite Champagne 45 yo 1975 (48,6%, OB for Wine4you 2021, 450 btl.)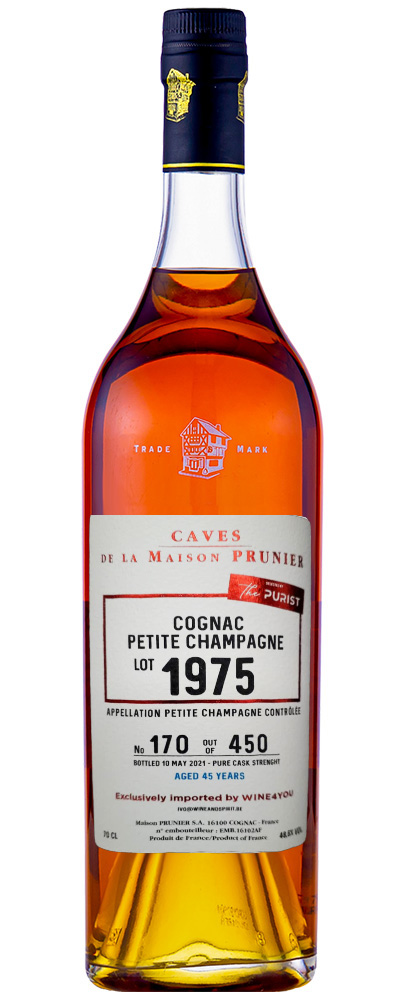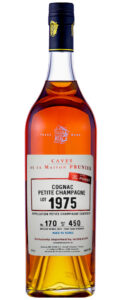 Nose: a fresher, more refined style again. Some candied ginger and tobacco leaves, with mirabelles and orange peels, maybe even a hint of banana. Milk chocolate in the distance, as well as rubbed spearmint and dried meadow flowers. Really good.
Mouth: it couples the light body of the 1979 to a bigger spicy side, but again with nicely aromatic and slightly tropical fruits. Hints of marmalade. Eucalyptus and herbal tea. Drier than the 1979, with more tobacco leaves.
Finish: medium, minty and herbal, with leafy notes.
Another cognac with a perfect finesse. It's less exhuberantly fruity and a tad drier than the 1979 though. Nonetheless a great option for your collection. Around € 190.
Score: 89/100
Prunier Cognac Grande Champagne 45 yo 1975 (53,4%, OB for Wine4you 2021, 550 btl.)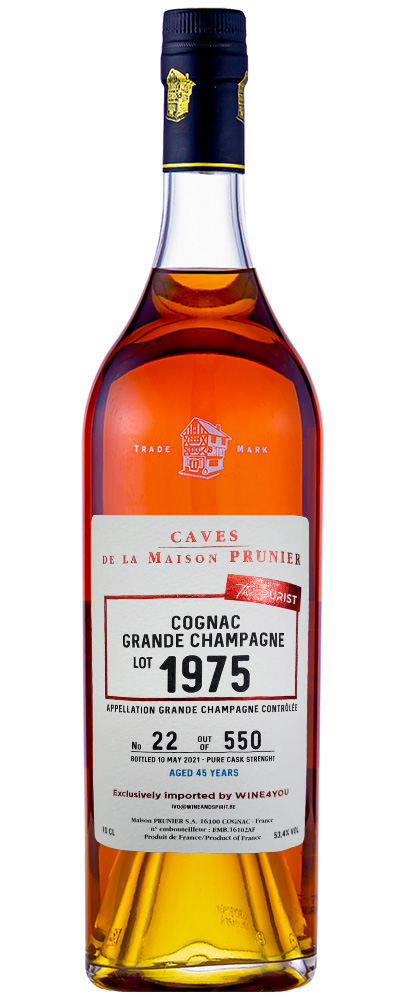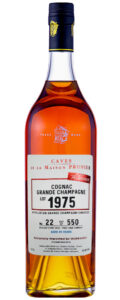 Nose: caramelized hazelnuts and creamy toffee up front. Subtle gingerbread and peanut butter. Slightly darker oak, with flashes of strawberries dipped in milk chocolate. It's certainly fuller, with a buttery side. An interesting contrast with the Petite Champagne!
Mouth: again this creamy, buttery profile on toffee, honey and plenty of chocolate notes. A hint of buttered toast. Hazelnuts and walnuts. Black peppercorns. Dark plums and a refreshing minty touch.
Finish: long, on chocolate notes and lingering mint.
This buttery, caramelly profile is not exactly my personal favourite, although it shows nice nutty and chocolatey notes. As always, just my personal preference. Around € 190.
Score: 86/100
Prunier Cognac Grande Champagne 1967 (51,9%, OB for Wine4you 2021, 54 btl.)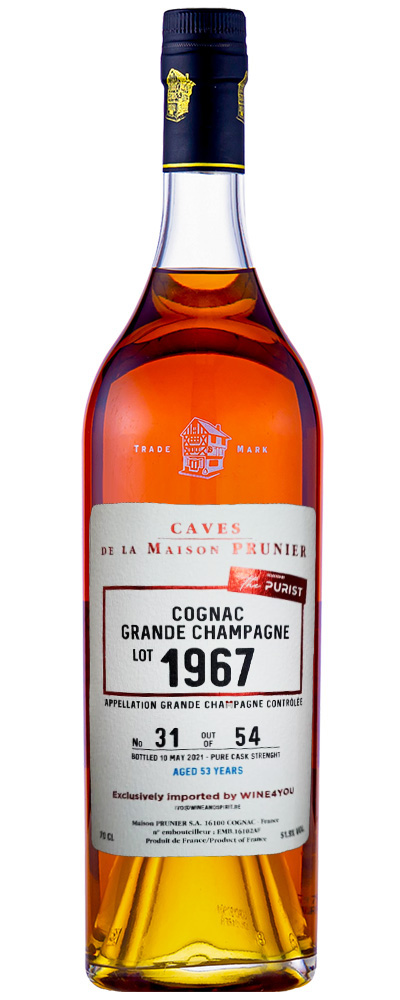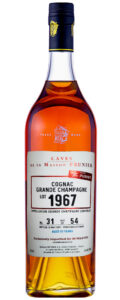 Nose: bingo. Lovely varnished wood, beeswax and cigar boxes. Some berries and grapefruits underneath. Walnuts, a little incense, Turkish delights and dried Mediterranean herbs. Blood oranges too. On par with the 1979 – excellent.
Mouth: very minty (I found that in the 1967 for Wu Dram as well) with a background of cedar wood, but also full of fruits. Pink grapefruit, hints of passion fruits and lychee. Darker blackcurrants. Also subtle bitter notes, orange peels, Pu-Ehr tea and eucalyptus. Rather oriental in a way.
Finish: quite long, minty and herbal, with a leathery dryness and floral touches.
An excellent nose, with a fairly oriental palate, a lovely fruit basket and varnished oak. The 1979 still offers the best value for money but this has an excellent profile as well, with high complexity. Warmly recommended. Around € 350.
Score: 90/100
A great session with a great variety of profiles and high quality accross the board. All are exclusively available from Wine4You
The 1979 vintage was our benchmark for this house, with a superb fruitiness and elegance. The 1967 vintage is almost on the same level, but looses the battle due to the slightly drier mouthfeel. The 1975 Petite Champagne comes in third, with a comparable finesse but a slightly toned down fruity side. 
Stay tuned for part 2. We'll have three 1950s expressions and a 1946, ending with a 1939 and 1931 vintage!