Two recent Daftmill single malts today. The first is the Daftmill 2010 Summer batch, which was bottled in 2021 but only arrived in shops a few weeks ago. This is a relatively wide-scale bourbon expression.
The second whisky is the Daftmill 2009 Oloroso single cask recently bottled exclusively for Kirsch Import in Germany.
Daftmill 2010 – Summer Batch release (46%, OB 2021, 25 first fill bourbon barrels, 6250 btl.)
Nose: pristine fruity / creamy spirit lifted by good wood. Yellow apples, apricos and sweet lemon candy, mixed with vanilla pods, fresh cake dough and subtle green cardamom notes. Beeswax in the background. Whiffs of buttery popcorn, hay and almonds.
Mouth: plenty of sweet citrus and stone fruits again, with mashed bananas, marzipan and hints of butter pastry. Almond brioche. Hints of golden syrup and praline. Vanilla cream. The zesty, bitter edge as well, typical for Daftmill. No overdose of wood spice though, as it's sometimes the case with first fill bourbon. This seems to be a rather sweet and honeyed expression.
Finish: quite long, more citrus, now with more grassy touches. Hints of ginger too.
I really like clean Daftmill and this one doesn't disappoint. There are still some bottles out there. On the other hand it's a shame they don't manage to control pricing among retailers, some of which are cashing in on these bottles with a 40% markup…
Daftmill 2009 (60,7%, OB for Kirsch Import 2021, first fill Oloroso butt #024/2009, 627 btl.)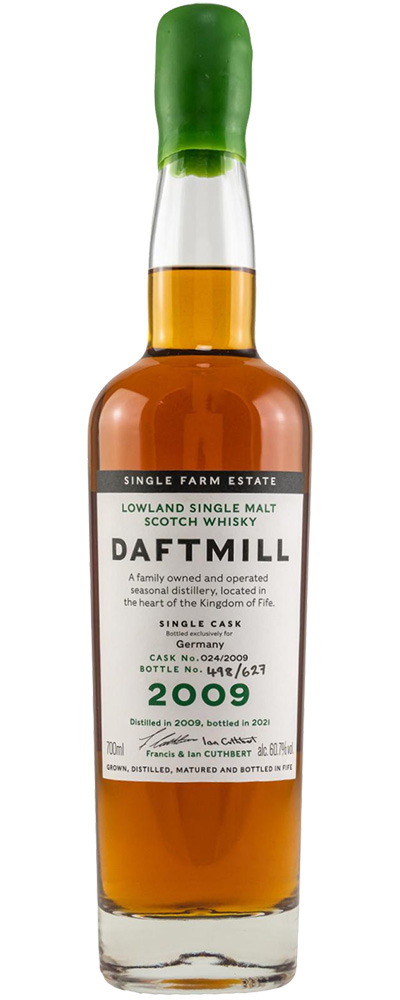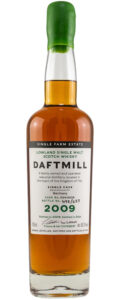 Nose: a high quality modern cask. Dates and raisins, with undertones of forest fruit jam, toffee pudding and thick caramel. Some fruit cakes and vanilla as well. Milk chocolate with hazelnuts, cinnamon rolls and nutmeg. Reminds me of recent Tamdhu (or rather of the deep toast sherry casks that Tamdhu is using).
Mouth: really good again. Rich jammy fruits, cherry liqueur and Mon Chéri and hints of bramble. Develops thick nutty notes (hazelnut, walnut, nougat) and a subtle hint of coffee, as well as some black pepper and tobacco. The (European?) oak leaves a big footprint (becoming a little bourbonny even) but overall it's rich and balanced.
Finish: quite long, on dried Mediterranean herbs, oily notes, citrus peels and… chalk?
This is an excellent modern cask: it's powerful and extractive but pleasant with enough fruits and roundness. Rather impressive. Pricing is a similar story here, originally € 250 which is decent value. Now already double the price, which is very difficult to justify. Score: 90/100