I think Fettercairn did a good job upgrading itself in August 2018, generating new interest among whisky enthusiasts. The core range Fettercairn 12 Year old and some of the Warehouse 2 batches are nicely balanced drams.
On the other hand I'm still a little cautious when looking at independent bottlings. They often have a quirky side, just like the old core range bottlings in fact. Today we're investigating a 2009 from Liquid Treasures and a 2011 by Best Dram.
Fettercairn 12 yo 2009 (53,7%, Liquid Treasures 'Winter Edition' 2021, refill sherry, 132 btl.)
Nose: a few pencil shavings up front, as well as freshly opened packs of matchsticks. Still quite bright and clean. Sweet mustard, green leaves and hints of coffee beans. Birchwood. Funnily there are hardly any classic sherry notes like dried fruits. It remains fairly bright, with hints of sweet lemon and honeydew in the background.
Mouth: lots of white pepper now, with fruit eau-de-vie, apple seeds and a vegetal side. Some grassy notes, with leathery dryness and some pungent mustard notes again. Green and leafy, with echoes of cardboard and hardly any fruits. A faint salty edge as well, maybe Fino or Manzanilla?
Finish: medium, some zesty citrus now. Still apple piths. A late hint of caramel sweetness appears.
A rather unconventional Fettercairn, with a slightly austere side and an uncommon combination of flavours. Not a crowd-pleaser – it would have been educational to get some information about the sherry cask. Sold out at eSpirits but still available from a few partners.
Fettercairn 10 yo 2011 (54,6%, Best Dram 2022, first fill bourbon barrel #800355, 220 btl.)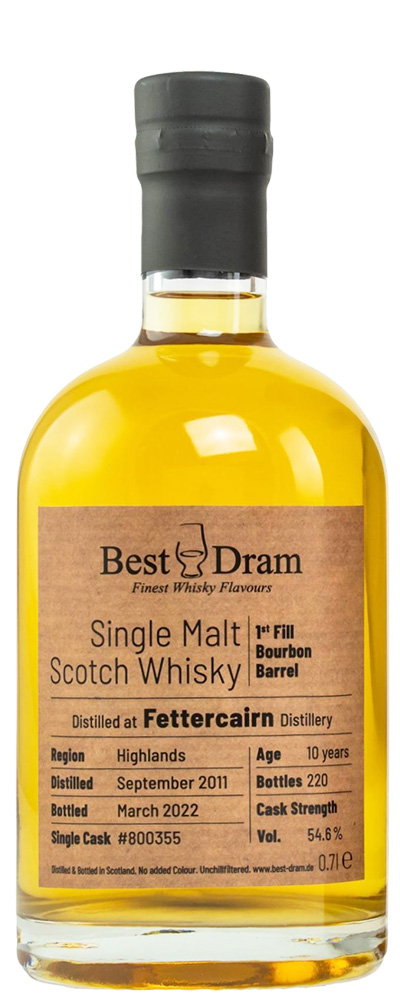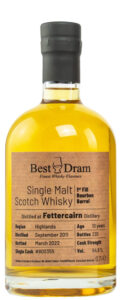 Nose: much cleaner, with a more classic mix of fruits (lemons, oranges, unripe bananas), light vanilla and a decent oaky kick. Then a little white pepper, as well as some green twigs and hints of ferns. Barley water and freshly crushed mint leaves too.
Mouth: a nice oily texture with sweet maltiness, lemon candy, grapefruit peels, vanilla custard and icing sugar. Orchard fruits. Then white pepper sets in. Also cookie dough, nougat and mixed nuts towards the end.
Finish: long, with sweet barley, stronger wood spice and creamy vanilla.
While the Liquid Treasures releases was a bolder and more interesting choice, this offers more simple pleasures. It's a good example of fresh, bright, modern whisky. Still readily available in the German market. Score: 85/100