In December 2021 The GlenAllachie revealed its Autumn collection of single casks. It included six expressions, only available in the UK. As expected, it was a showcase of different wood types.
We skip the sherry casks for once. Today we're focusing on three less common expressions: a 2009 Marsala cask, a 2006 Rioja barrique and a 2006 Port Pipe.
GlenAllachie 12 yo 2009 (58%, OB for UK 2021, Marsala barrel #5856, 295 btl.)
Nose: a lot of minty notes at first, followed by heather and a hint of pinewood. Then it becomes honeyed, with some stewed orchard fruits behind it. Sweet apples, peaches and hints of yellow plums. Tinned pineapples. Some darker toffee notes and oak shavings too.
Mouth: quite a fruity core again, with abundant sweetness. It is mainly showing mango, apple compote and pineapple candy. Then spicy notes appear, like white pepper and candied ginger. The generoous strength strengthens this spicy / woody side. Caramel and fudge, as well as some biscuity notes underneath.
Finish: medium long, with plenty of sweetness again, both in a caramelized as well as fruity form.
If you like a sweet dessert dram, then this will probably work for you. I think the tropical fruitiness makes this quite a success, but the sweetness is rather dominant and complexity is fairly low. Something in between a sherry cask and a Sauternes cask perhaps. Interesting. Bottles are gone, but still samples available from The Whisky Exchange.
GlenAllachie 15 yo 2006 (60,5%, OB for UK 2021, Rioja barrique #4465, 301 btl.)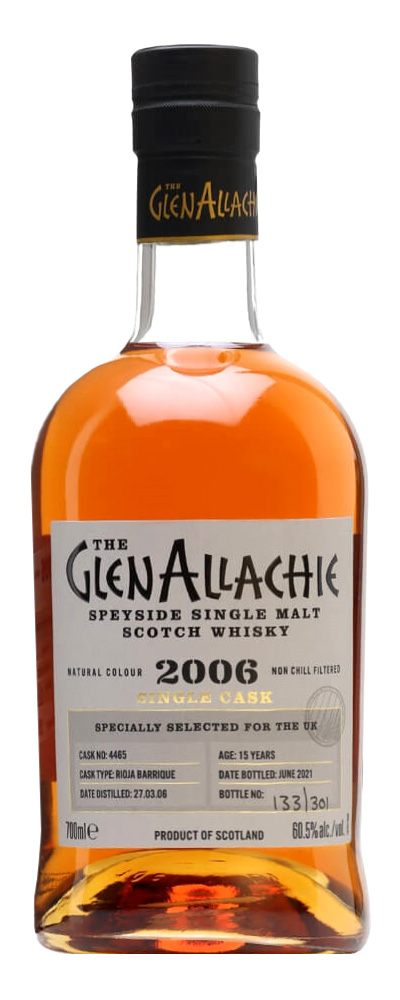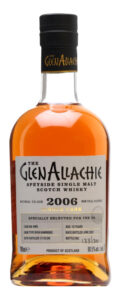 Nose: darker, slightly woodier, with a (mulled) winey edge. Red plums and poached pears, with black berries, nutmeg and cloves in the background. Later candied ginger and some light nutty elements, mainly almond. Hints of cocoa and leafy notes too.
Mouth: now the red wine starts to dominate. Cloves and nutmeg, with more nutty notes and a rather loud muddy edge. Blackberries, mint and other herbs. Slightly bitter and dry – this is lacking freshness and fruitiness in my opinion.
Finish: medium long, leafy, with dry wine, a little toffee and cocoa.
I preferred the wider 13 Years Rioja finish release, which was more gentle and had a less astringent wine influence. Sold out, but TWE is still offering samples. Score: 79/100
GlenAllachie 15 yo 2006 (60,7%, OB for UK 2021, Tawny Port pipe #868, 719 btl.)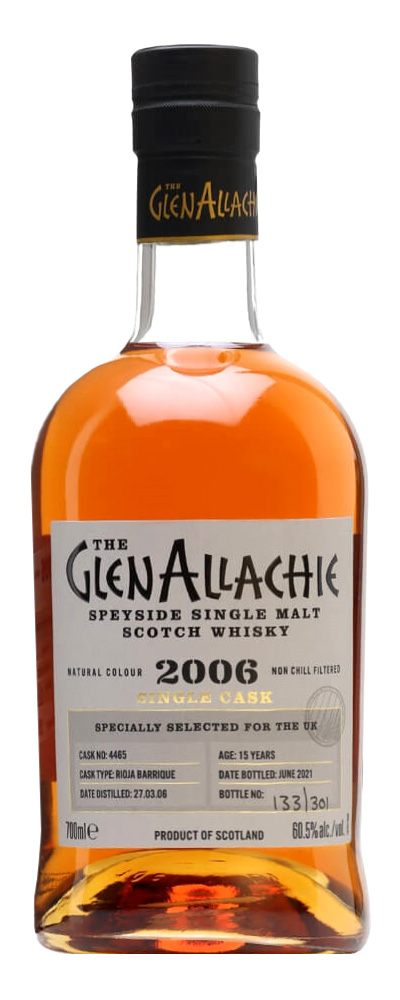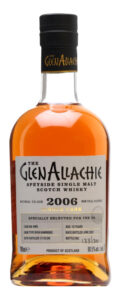 Nose: more vanilla than in the other two. Later a moderate sweetness develops, on stewed plums, blackberries and chocolate. Brown sugar. Then sandalwood appears, alongside pepper and heathery notes. No disturbing winey notes – nice.
Mouth: increased darkness and intensity now. More spicy notes appear, mainly pepper, nutmeg and lots of of cinnamon. The balance with dried figs and chocolate cake is good. Hints of coffee ganache. The wood is prominent but kept in check.
Finish: long, still spicy and woody, with chocolate and dried fruits in the background.
Active oak is a constant in this session (and in the general GlenAllachie policy, I suppose). It's hard to get a glimpse of the distillery character in these single casks. That said, this Port version is my favourite expression today. Same story: bottles are gone but TWE is still offering samples. Score: 86/100