Today we're trying three single cask releases bottled for Whisky Journey Singapore, which was a kind of 10-day whisky festival that took place in different bars accross the city (the Quaich Bar among others). You could participate in masterclasses and try loads of old and new expressions.
We're having a Glen Scotia 2006, Inchmurrin 2008 and Tomatin 2009.
Glen Scotia 12 yo 2006 (53,1%, OB for Whisky Journey Singapore 2019, 235 btl.)
Nose: clean and fruity, plenty of oranges and tangerines, with pineapple candy, cotton candy and honey. Also vanilla. Light oily notes, with a very subtle maritime touch and a hint of fudge as well.
Mouth: citrus all over again. Loads of oranges, grapefruits and tangerines. A nicely tart profile. There's a slightly bitter and spicy edge too, giving it a bit of a kick with citrus peels, cinnamon and ginger. Marmalade. Burnt sugar. A dose of fresh wood as well.
Finish: medium, still showing sweet citrus mixed with oak spice. Hints of juniper and marmalade.
A nice whisky, mainly on citrus and wood spice, confirming the fact that Glen Scotia makes slightly deviant but interesting drams. This one has a limited complexity but no complaints either.
Inchmurrin 10 yo 2008 (54,1%, OB for Whisky Journey Singapore 2019, cask #999, 273 btl.)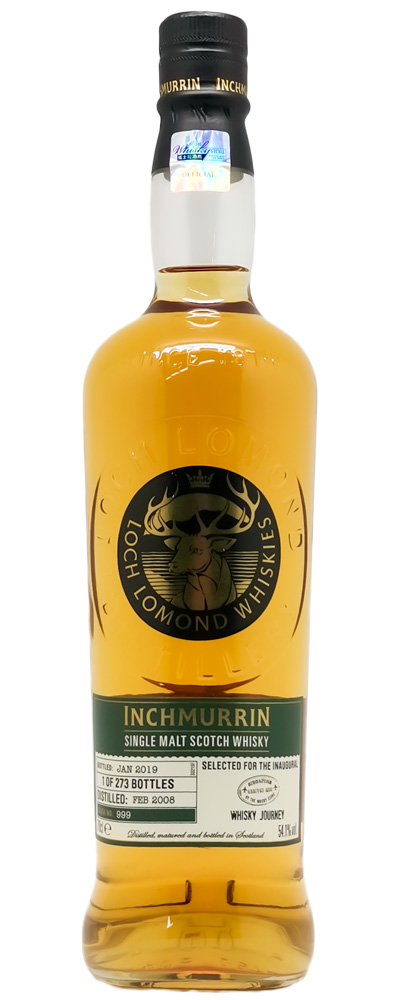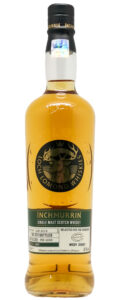 Nose: ripe apples and pears, some beer-like notes and plain bread. Becomes fruitier over time, showing peaches and plums, with a drizzle of honey. Apple cake. Somewhat similar to the Glen Scotia in its gentle aromas, mainly fruits.
Mouth: the fruits go in overdrive now. Really nice pineapple, mango and guava, with tangerines and apricots. Hints of mint, ginger and caraway seeds. Very fresh with less oak than in the Glen Scotia.
Finish: quite long, with ginger and citrus fruits.
It seems they have a sweet spot for fruity whisky in Singapore. This is rather lovely, it really bursts open in the mouth. Great selection. Score: 88/100
Tomatin 10 yo 2009 (61,2%, OB for Whisky Journey 2020, recharred French oak Verdejo hogshead, 360 btl.)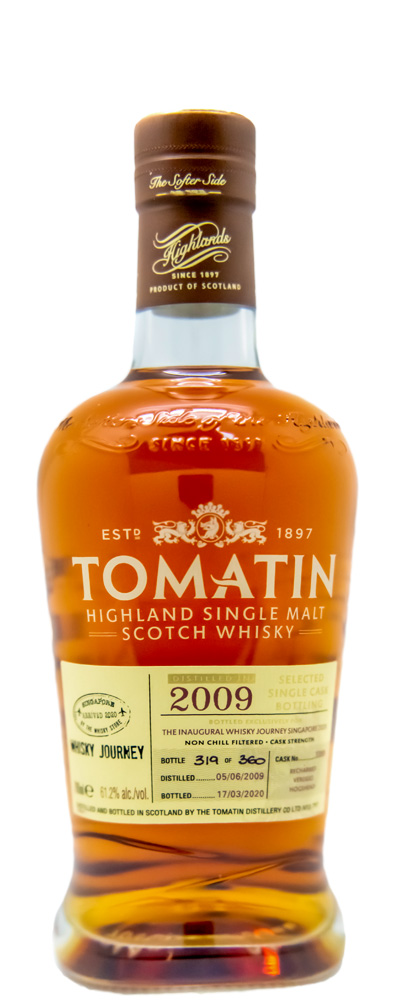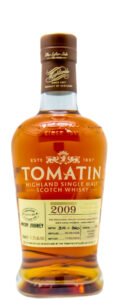 Nose: sweet and rich, with grapes, melons, strawberries, golden apples and lime. Rather candied, with fruit tartlets and other pastries, later joined by hints of sweet almonds and vanilla custard.
Mouth: rather hot, now a little oak-driven. Vanilla, white chocolate and a kind of fruit / oak combo that reminds me of cognac, must be the wine influence. Mirabelles, peaches, with syrupy and pastry notes again. Cereals and light tannins come out towards the end.
Finish: quite long, spicier, with blackberry jam and a hint of chocolate.
I believe this is the first Verdejo cask I've tried. A nice experience, I must add, better than expected, it's really rich and the woody or winey notes are not overdone. Score: 87/100