While there are only a handful of official Old Rhosdhu bottlings, the name became a tiny bit more common after a series of independent bottlings that started appearing in 2019. Since then we're regularly seeing them.
This year the number of Old Rhosdhu releases can be counted on one hand. We're having two 1993 casks. One was bottled by Maltbarn in 2021 (but it wasn't released until very recently), and the other by Decadent Drinks.
Old Rhosdhu 28 yo 1993 (49,9%, Maltbarn 'The 26' 2021, bourbon cask, 39 btl.)
Nose: old-style notes of hay, paraffin, dusty cardboard and wax candles. Drops of cod liver oil. A faint hint of cooked veggies and light mushrooms in the background, but also hints of yellow apples and a touch of vanilla. When I came back to it, I got some carbon papers and dried herbs, as well as hints of apricot.
Mouth: more oak than I expected while nosing. Some sawdust and oak shavings, as well as some peppery notes, liquorice and herbal tea. The greasy side is slightly hidden now. Then it moves to vanilla cake, hints of pears and sweet lemons. Also a leafy bitter edge. These vegetal notes are always around the corner.
Finish: medium long, rather spicy and grassy, but not very exciting.
In line with the previous Old Rhosdhu 1993 from last year, although this bottling has more vegetal notes, as far as I can remember. This has many qualities, reminding us of whisky from an era that's long gone. But it also has quirky elements that make it harder to enjoy. Some still in stock at Maltbarn apparently.
Old Rhosdhu 29 yo 1993 (57,1%, Whisky Sponge 2022, refill hogshead, 328 btl.)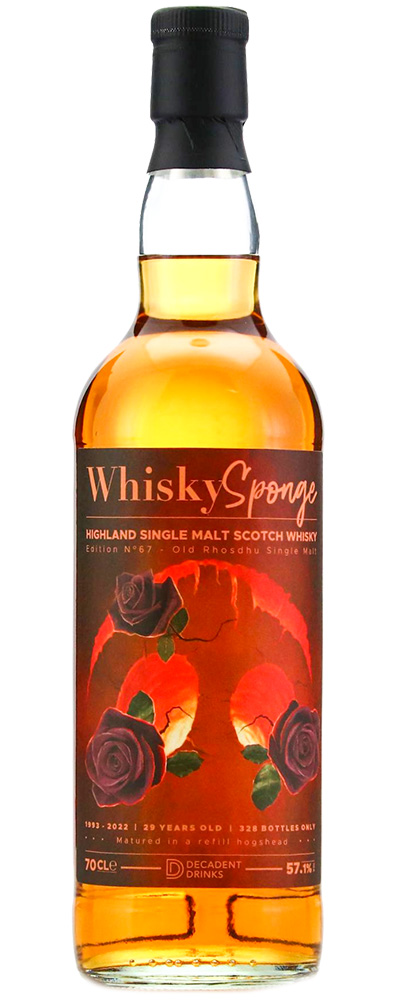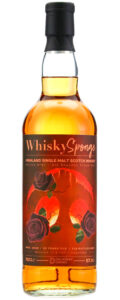 Nose: similar, but the waxy notes are bigger. Light hints of coconut cream, leather and mashed bananas, as if a few drops of very old grain whisky were added. Then walnuts come out, with sweet herbs and a wee hint of marzipan. Plenty of hay. Never these slightly sulphury vegetal notes.
Mouth: quite oily but definitely more punchy, showing some gingery oak, pepper and a familiar herbalness. Yellow apples and some slightly tropical fruits come out, albeit in a slightly funky way. Faint greasy notes, subtle mustard and touches of hessian. Then grassy / leafy notes round it all off.
Finish: medium long, rather spicy and grassy, but not very exciting. Yes, that's the same description.
On the nose this was cleaner, but also sweeter and less complex than the Maltbarn version. Spicy wood is perhaps a little too prominent on the palate to fully enjoy its generous old-style side. Available from Decadent Drinks. Score: 87/100