More Old Rhosdhu. For me it was one of the discoveries and surprises of last year – I don't think anyone expected such an interesting old-school profile from Loch Lomond. Most of us hadn't even heard of the name of this spirit style.
Today we're trying two recent releases, one Old Rhosdhu 1990 from The Nectar of the Daily Drams and an Old Rhosdhu 1993 from Maltbarn.
Old Rhosdhu 30 yo 1990 (47,3%, The Nectar of the Daily Drams 2020)
Nose: there's the warm fruity note (overripe melon) with vanilla, dried flowers and some dried ginger. Whiffs of cardboard and scrap metal. It also shows a slightly meaty note – that's spirit sulphur, mind you, like you'd expect from Mortlach or Craigellachie for instance. Moist bread. Tiny hints of dried herbs.
Mouth: this peculiar mix of bready notes, wet newspapers, ink, plummy sweetness and vanilla pastry, some coppery notes, oily touches and nutmeg. A growing herbal bitterness, with resins and bright hints of grapefruits, even flashes of papaya. A slightly austere Highlands style, still with a beefy undertone. Not for beginners.
Finish: medium, on hay, porridge, a little white pepper and herbs.
I generally appreciate the old-style quirky notes of these Old Rhosdhu casks, but I'm not a fan of the beefy character here. Still available from The Whisky Exchange for instance, or from a couple of stores in the low countries, like Tensu Spirits.
Old Rhosdhu 27 yo 1993 (50,8%, Maltbarn 2020, ex-bourbon cask, 149 btl.)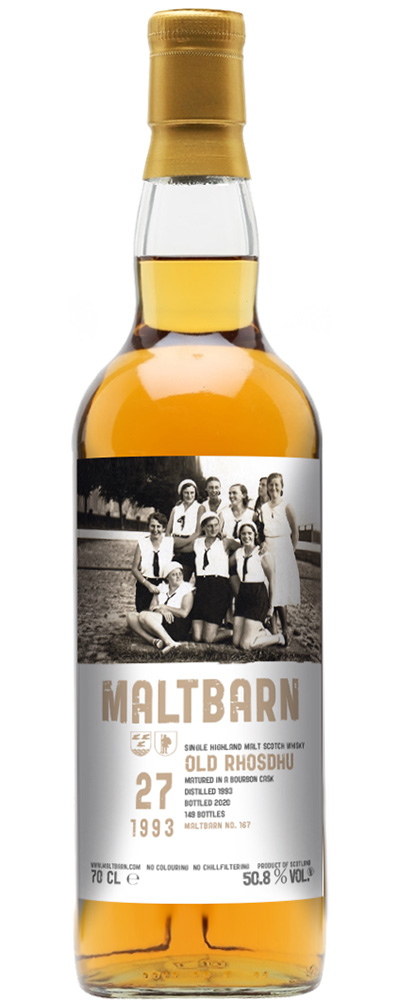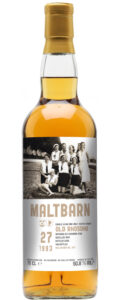 Nose: much brighter and grassier than the Daily Dram bottling, but still a little quirky. More herbs like eucalyptus, fresh paint, mixed chemicals in a DIY store, a little varnish. Also leafy notes: a walk in the forest after the rain. More fresh oak shavings as well. Over time it also shows peaches and honeyed notes.
Mouth: clean and oily, finding a balance between plenty of herbal notes (mint, rosemary), ginger, nutmeg and a fruitiness that's mostly citrusy. Lemon peel, grapefruit. Some bitter almonds, straw and later a hint of sweet, floral honey, pears and gooseberry.
Finish: medium, bittersweet and mildly drying, with aniseed, grassy notes and a vague fruity note.
Quite a cleaner version of this Highlands profile but still a quirky, slightly demanding profile that won't appeal to everyone. I think it's good but some of the 1990s were on a slightly higher level. I couldn't find any shoplinks.
Score: 87/100