Scapa… I only reviewed two expressions so far, both independent bottlings. The best one was definitely the Scapa 1988 from Gordon & MacPhail.
There's only a handful of bottlings on the market, unless you believe all these undisclosed Orkney whiskies are from Scapa distillery. It is an interesting distillery though, with the only working Lomond (wash) still left in the Scotch whisky industry (albeit with modifications).
Both whiskies on the table today are NAS expressions ("ageless" they say). Yet they're not particularly cheap.
Scapa Skiren (40%, OB +/- 2021, first fill American oak)
Nose: some wet cardboard up front, as well as gravel and wet plaster. Then some meadow flowers come out, with citrus fruits, green apples and dusty malt. Hints of pine needles with crushed walnuts. Light mint. Overall it stays pretty green.
Mouth: very soft, not to say watery. Mid-palate a nice fruitiness appears (more crisp apple and juicy pear) with lemon peels and a bit of honey and butterscotch sweetness. Then malty notes appear, as well as some plankish wood and green tea.
Finish: rather short and rather vague, with a demerara sweetness and soft spice.
Although I only got the cardboard at first, this Scapa Skiren opened up nicely. The weak flavours makes this a beginners dram, but on the other hand it's all but boring. In fact it kinda grew on me, so if this were bottled at a higher strength, I'd definitely be interested. Available from The Whisky Exchange for instance. I found a sample at Whiskysite.nl.
Now onto Scapa Glansa which also screams don't be scared of single malt whisky! As it's only finished in casks that previously held peated whisky, it may well be the most inoffensive smoky whisky. Bottling it at 40% ABV doesn't help of course.
Scapa Glansa (40%, OB +/- 2021)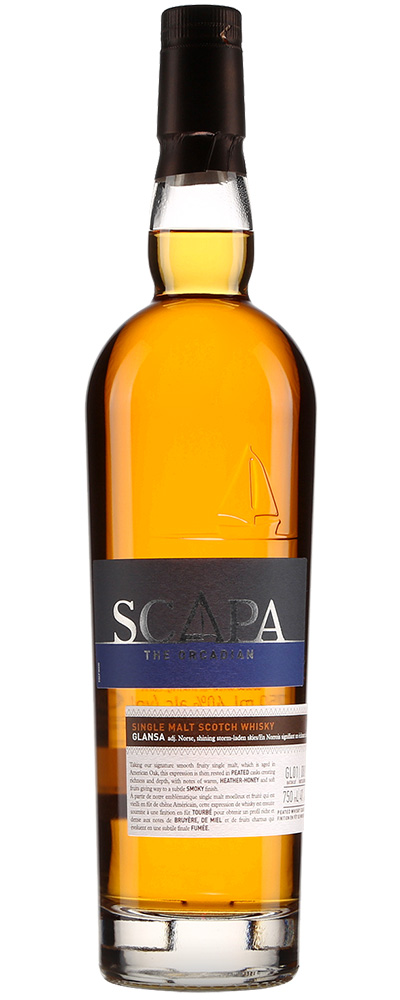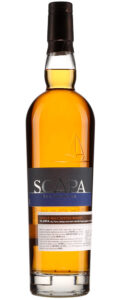 Nose: again slightly uncommon but interesting. Bright peach and lime. Hints of pineapple too. Then toffee notes and vanilla, as well as meadow flowers. Still a little dusty note in the background. As expected the smoke is really understated.
Mouth: a thin delivery on diluted ashes. There's some vanilla cake and subtle pepper, coated in a round creaminess. Apple and citrus. Then soft hints of roasted coffee beans, which are quite nice.
Finish: short and pretty bland, with a vague sweetness and hardly any smoke left.
The name Glansa is taken from Norse and means shining storm-laden skies. This is just a very light breeze. While Skiren showed potential, this feather light smokiness is rather pointless in my opinion. Available from The Whisky Exchange, or get a sample from Whiskysite.nl. Score: 75/100