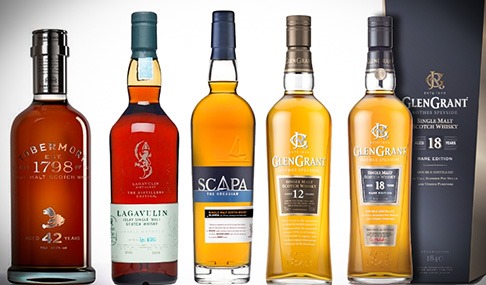 Some of Diageo's upcoming Distiller's Editions appeared in the TTB database:
Lagavulin 2000/2016 Distillers Edition (lgv. 4/505)
Oban 2001/2016 Distillers Edition (OD 165.FB)
Dalwhinnie 2000/2016 Distillers Edition (D.SX.312)
Cragganmore Distillers Edition (CggD-6568)
Also new: Scapa Glansa. First aged in American oak and then finished in peated casks for a subtle smoky finish. Bottled at 40%.
Glen Grant has launched three aged-statement whiskies. That's good news. Their current core range consists of the Major's Reserve, a 10yo and 16yo and expanding them with new aged expressions goes against the flow in today's market.
Glen Grant 12 Year Old (around € 50)
Glen Grant 12 Year Old Non Chill-filltered (for travel retail, more or less the same price)
Glen Grant 18 Year Old (around € 150)
All three will be presented in a new style of labeling and packaging.
We've also seen two ultra-premium expressions:
Bunnahabhain 'Eich Bhana Lìr' 46 Year Old
A limited edition of just 198 bottles. Around € 5500.
Tobermory 42 Year Old 1973
Aged in a sherry butt, 650 btl. at 47,7%. Around € 3300.
Our Belgian distillery Het Anker presented a new limited edition of its Gouden Carolus whisky today (the distillery is having a festival week-end as we speak). The new Gouden Carolus Pure Taste Anker Cask spent 36 months in 'Anker casks' – first-fill casks that are toasted and charred to the distillery's precise formula and ambitions by a Portuguese cooperage. These casks are used to finish their regular Gouden Carolus after an initial ex-bourbon period, but now they bottled a fully matured version.
Oh, and you can buy Ardbeg Dark Cove today.