In our view grain whisky is still a little anecdotal. We don't try them often and if we do, it's usually some very old cask. While they can be very good at high age, there's hardly a market for middle-aged grains.
Today we're having two North British releases from the Liquid Treasures series, both around 30 years of age.
North British 32 yo 1989 (42,6%, Liquid Treasures 2022, bourbon barrel #289147, 189 btl.)
Nose: quite a lot of glue aromas and nail polish remover. Then yellow berries and citrus notes, which are nice but also in the heady region, if you know what I mean. Some grassy and herbal raromas. Interesting as the cask influence is very subtle, but not exactly complex.
Mouth: a similar burst of citrus juice, lemon sherbet and coconut water. Quite thin, with hints of juniper and dextrose. Orange blossom honey and bergamot tea. It comes unusually close to a very light malt whisky at times, if not for the synthetic alcoholic notes.
Finish: rather short, on lemon scented tea, hints of marshmallow and a minimal oaky touch.
Third fill cask? It's not often that we came accross grain whisky with such an anecdotal wood influence. It makes it thin and neutral. While this would work in a summery highball, I'm not convinced it is sipping material. Still available from eSpirits.
North British 29 yo 1992 (48,6%, Liquid Treasures 2022, bourbon barrel #67483, 146 btl.)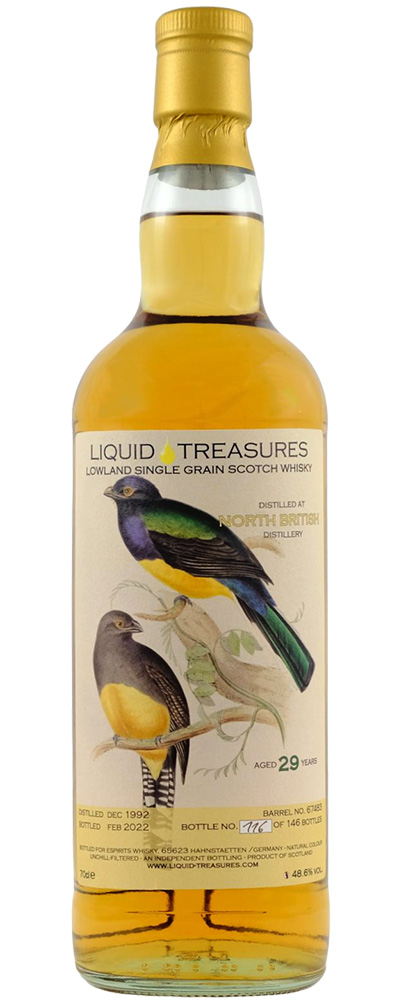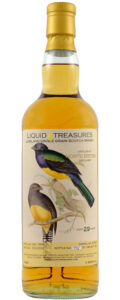 Nose: more interesting, but still not very exciting. Sunflower oil, some herbal notes and mint. Then dandelions, dried coconut and a little green tea. Foam bananas and vanilla ice cream too.
Mouth: more classical, on creamy vanilla notes, popcorns and a mix of butter and citrus. Very silky and quite sweet, but not as thin as the older one. Subtle varnished notes. Sweetened chamomile tea. Then light peppery notes, soft caramel and apples.
Finish: medium, with coconut flakes, vanilla and light wood spice.
A decent grain whisky, without off-notes. A slight disappointment in terms of complexity, given the age. Still available from eSpirits. Score: 81/100