We start with a 19th century cognac from the Mauxion house, distilled in 1900 and matured for around 70 years in cask before being transferred to dame-jeanne.
Cognac Mauxion Sélection 1900 – Bons Bois (48%, OB 2022, 42 btl.)
Nose: fine leather mixed with rose petals, hints of vetiver and other floral notes. A feminine profile against a background of quinces, mirabelles and pears. Subtle whiffs of strawberries. Then minty notes, bergamot oil and peaches. Mango appears as well. Very fresh and aromatic.
Mouth: although the wood speaks first, it's never overpowering. It brings minty notes, eucalyptus and a hint of drying tobacco and cedar. After a few seconds the fruity core bursts open, showing peaches, plums and hints of passion fruits. Then pink grapefruit, tangerine and bergamot chiming in. Just a hint of juniper towards the end.
Finish: quite long, now brightly citrusy with an aftertaste on mint tea and subtle clove oil.
This is an exceptional Bons Bois, a region that rarely appears in selections. These sandy soils near the ocean have a great souplesse. Considering this is so old, the asking price wasn't outrageous either. No wonder Wine4You sold all bottles.
Next up we have a multi-vintage Très Vieux, entirely from Petite Champagne. The recipe is 8% Heritage N.69 (already bottled by Cognac Sponge), 36% each of Heritages N.71 and N.73, then 10% each of Heritages N.75 and N.88. This blend is meant to be enjoyed while reading the works of Sartre, freely translating them to Gaelic as you speak, so think twice before purchasing!
Cognac Grosperrin Très Vieux – Petite Champagne (52,2%, Cognac Sponge 2022, 224 btl.)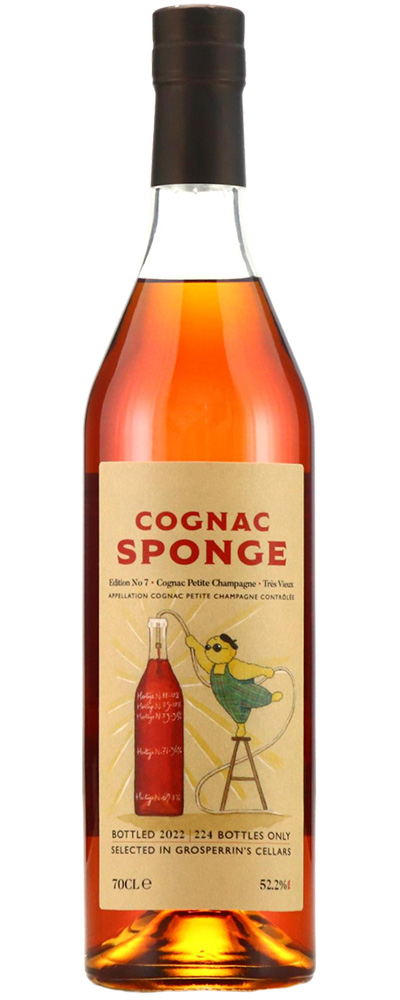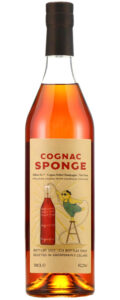 Nose: really fruity again, with quince jelly and bananas flambéed, as well as darker raisins and Jaffa cakes. Cinnamon rolls and hints of turrón in the background. Some polished furniture and walnuts. Then also bright top notes like orange peels and mint. A lot of great vintages together, resulting in high complexity.
Mouth: rich, with dried fruits, tons of marmalade, verbena and fruit tea. Plummy notes and hints of nectarine. A nice layer of wood polish, with Wulong tea leaves, pipe tobacco and mint. Wee hints of liquorice too.
Finish: long and slightly more leafy, find a nice balance between elegance and a more rustic character.
Complexity is high, which means you'll find a bit of everything in this one. Bright fruits but also more autumnal, woody hints. Overall a great advocate for multi-vintage bottlings. Now available from Decadent Drinks. Score: 90/100
We end this session with two Lot 68 bottlings from Cognac Prunier. The first is a single cask from Grande Champagne, exclusively available from The Purist, the cognac label from Wine4You in Belgium.
Cognac Prunier Lot 68 – Grande Champagne (52,8%, OB for The Purist 2022, 870 btl.)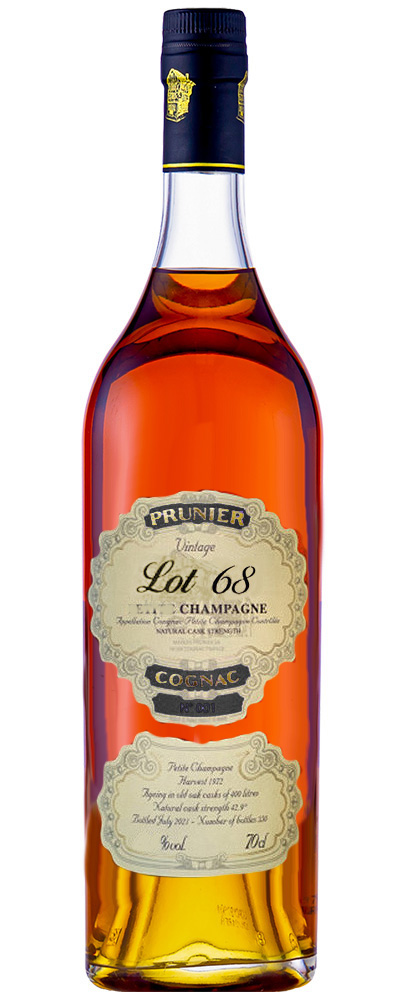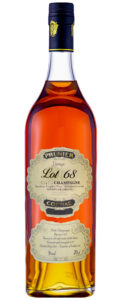 Nose: clearly more candied, with whiffs of marzipan and vanilla coming out. Then candied orange as well as lightly tropical fruits (mango). Leathery notes and a few drops of Chartreuse complete it. A rather jammy profile, I like that.
Mouth: yes, full-on fruits including the pink grapefruits, papayas and passion fruits that we love so much. What is it about 68 anyway? Then it shows golden raisins subtle mint and marmalade. In the second half some tannins, eucalyptus and tea leaves make it drier. It's never taking over the fruitiness though.
Finish: really long, bittersweet, on mint and herbal tea.
I really like this one. The nose adds a gourmand edge to the fruity core, and wood spice add depth on the palate. Furthermore the high power makes this very forthcoming. Exclusive to Wine4You and recommended. Score: 91/100
We'll add one more with the same provenance, bottled in September 2022 for Wine4You. This time it's a 1968 vintage from the Petite Champagne region, aged in 350 liter casks and bottled at an even higher strength.
Cognac Prunier 1968 – Petite Champagne (54,6%, OB for The Purist 2022, 42 btl.)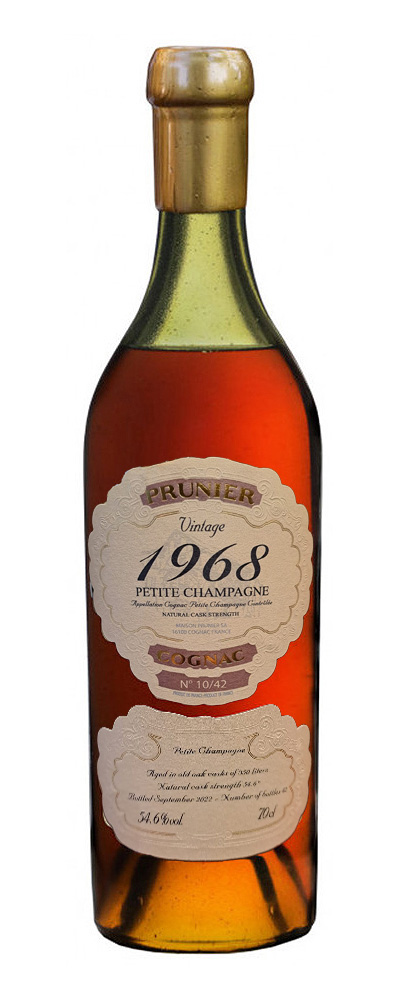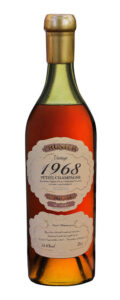 Nose: more spirity now, which makes the minty notes take the upper hand. It feels thinner as well, on orange peels and pears. Nice rancio, with hints of wood resins and leather. Some blonde tobacco as well. More resinous than the others, but water helps to open it up.
Mouth: mint, mint tea and resinous notes, along with hints of stewed bananas, pears and blueberries. Then liquorice, almonds and walnuts appear. Aniseed as well. The balance of fruity notes and power is tipping over in this case. Reducing it a little makes it rounder and better in my opinion.
Finish: really long, on mint and herbal tea. With water a nice sweetness appears.
Water is required to make this one open up. Once you do that, it becomes really enjoyable. Despite the high quality, it suffers a little from the comparison with the excellent Grande Champagne. Exclusive to Wine4You. Score: 90/100