When you use the words Irish whiskey and Maria label in one sentence, you will immediately get the attention of any serious Belgian whisky aficionado. An Irish single malt 1991 (peated and sherried) is etched in our memory. I too gave the 1991 Maria label from The Nectar of the Daily Drams a very high score.
Recently The Nectar bottled an Irish single malt trilogy (also peated but not sherried) of roughly the same age and they dared to use the Maria reference on the labels again. That shows courage, and sets high expectations. These casks are probably sourced from Jack Teeling's stocks, built up while he owned Cooley distillery.
Last weekend I visited the Spirits in the Sky festival in Brussels so I coudn't resist grabbing samples.
Peated Irish Single Malt 22 yo 2001 (53%, The Nectar of the Daily Drams 'Maria label' 2023)
Nose: mild (slightly herbal) peat with fresh lemon and lime, green apple and white peach. Then vanilla and honey come out, as well as pineapple cubes. Shortbread. A nice, fairly candied profile. Even a whiff of white chocolate after a while.
Mouth: a mix of grassy smoke and orchard fruits, with a nice oily texture. The fruits are stewed and sweet, almost candied, with a hint of mango but mostly indigenous fruits, I'd say. Light vanilla. Returns to grassy elements in the end.
Finish: fairly long, on herbal notes, fruit candy and a hint of liquorice.
Good start: the typical Irish fruitiness with an added layer of smoke. Not quite on the same level as the legendary 1991s (which had the same age when they first appeared) but still really good whiskey. Each bottle was originally around € 145, if I'm not mistaken, but I don't think there are any left on the shelves.
Peated Irish Single Malt 22 yo 2001 (53,4%, The Nectar of the Daily Drams 'Maria label' 2023)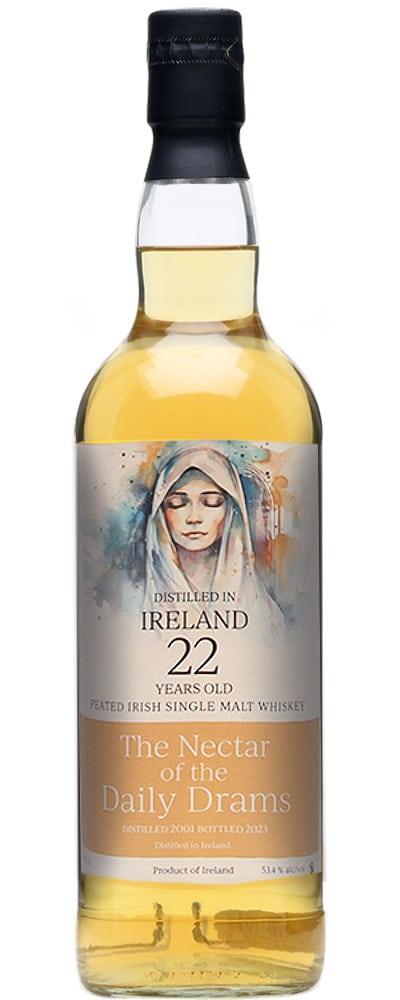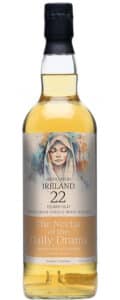 Nose: a slightly more acidic onset, with kiwi and tangerine at first. Then bright orange juice and hints of unripe banana. Less vanilla notes in this case. More towards pineapple juice instead of the candy. Add some pine-y wood smoke and you get a very fresh, high-pitched style.
Mouth: more fruity acidity again, this one is definitely brighter. Mandarins, bergamots, maybe a hint of passion fruit, making it a little more tropical. A very light grassy / minty touch adds even more freshness. The smoke is present, but not as big as these 1991s in my opinion.

Finish: quite long, on oranges (both fresh and zests), minty smoke and a faint grassy touch.
This one is the most vibrant of the trilogy in my opinion. It is beautifully fruity, with a nice acidity that is always an asset in my book. We're also getting closer to tropical fruits here – another asset. If you only bought one bottle, I hope it's this one. Score: 90/100
Peated Irish Single Malt 22 yo 2001 (54,4%, The Nectar of the Daily Drams 'Maria label' 2023)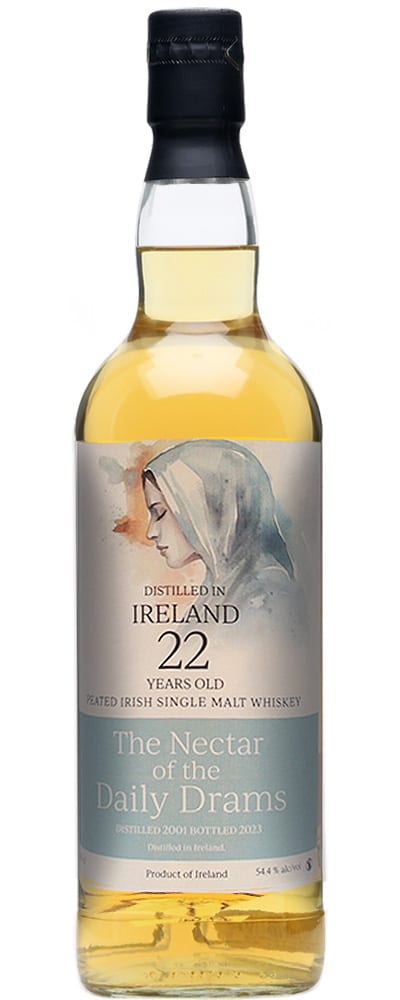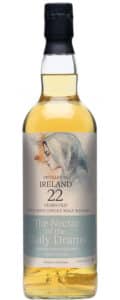 Nose: in between the others perhaps, with creamy notes, mango tartlets and mashed banana. The combination of vanilla, bright orchard fruits and this subtle peat is pretty great. I'm getting a bigger grassy and cereally side here, almost a floral touch too, but they are close together.
Mouth: citrus galore. Plenty of lemons, oranges and hints of grapefruits. Hints of pineapple and passion fruits after a while. A nice medicinal side as well (mentholy herbs and liquorice). Subtle vanilla.
Finish: not too long, but nicely smoky and juicy, with a great balance of bright and warmer fruits.
My least favourite? Probably, yes, but scoring these three is really difficult. The longer you 'work' on them, the more you realise they use the same colour palette and only offer small nuances. I'm sure the outcome could change on a different day. Overall a good series. Score: 88/100