I attended Spirits in the Sky last weeke-end and while I don't go to whisky festvals as much as I once did, it's safe to say this is still the best place to experience the Belgian whisky scene and stay up-to-date about the new releases.

Spirits in the Sky festival impressions
I'll start with very quick impressions of a few new and upcoming releases – this is probably what people are mostly looking for. Mind that these are just casual tasting impressions…
Undisclosed Speyside 27 yo 1992 (46.2%, Infrequent Flyers, barrel #4406044)
A great new release in the second batch from Alistair Walker. A generous fruit salad with honey, in the style of Glenlivet, BenRiach or something similar. The Glen Elgin 2006 and Linkwood 2010 were also good.
Kilkerran 15 Years Fino Cask (52.1%, single cask for Belgium)
A bit hyped, but it doesn't really live up to expectations.
Springbank 10 Years 'Local Barley' (56.2%, 2019 release)
From the same vintage and barley farms as last year, with a similar outcome. Really characterful whisky but earlier editions had more depth.
BenRiach 33 yo 1985 (48.1%, peated / virgin oak hogshead #7214)
Really good: a mix of tropical fruits, balanced peat and oak spice. Quite a unique profile, executed perfectly. Too bad it's so expensive.
Tamnavulin 'Vintages Collection' 2000 (45%, OB 2019)
From a brief five week period in which they were distilling between 1995 and 2007. Rather bland. Barley and caramel, little more I'm afraid.
Highland Park 10 yo 2008 (59.8%, refill hogshead #7779 for Spirits in the Sky 2019)
Big, big sherry, perhaps a little over the top for some, and not entirely as clean or fruity as I'd like. Recommended for those who like meaty, full-bodied sherry bottlings though.
Highland Park Triskelion (45.1%, OB 2019)
Striking a much better balance of classic HP notes. Orange peel, subtle peat, gentle sherry notes and oak spice. Three types of casks so a bit for everyone. Pricey though.
Glen Elgin 23 yo 1995 (45.7%, Nectar of the Daily Drams 2019)
What you'd expect from middle-aged Glen Elgin: very fruity with balanced oak spices. Fresh, solid whisky.
Ben Nevis 8 yo 2011 (62.6%, Signatory Vintage for The Nectar 2019, cask #148)
Much younger than the independent Ben Nevis we're mostly seeing these days, but it's easy to see this is the same style. Characterful whisky, good value for money.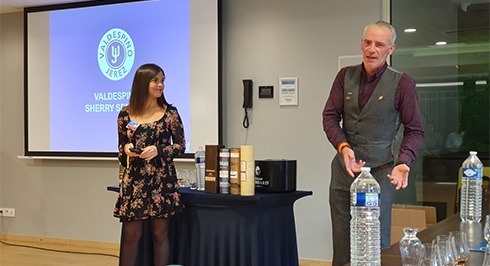 BenRiach / Valdespino sherry cask workshop
I also attended a masterclass by Stewart Buchanan (of BenRiach / GlenGlassaugh / GlenDronach) and Pilar García (of Valdespino, a well-known sherry house which recently arrived in Belgium). Their tasting was meant to showcase the interaction of different types of sherry (casks) and their influence on whisky maturation.
We started with a very interesting bottling: Glenglassauch 'Massandra Collection'. Now this is Russian wine in the style of sherry. Stewart confirmed that looking at these casks you can tell they're not American nor European oak but probably Russian oak, which was relatively common in the Scotch industry until the 1860s or so when sherry casks became popular.
In any case this must have been a very old cask, perhaps over a hundred years and maybe 4th of 5th fill, which are hard to keep in shape.
Glenglassaugh 39 yo 1972 'Massandra Collection' (53,3%, OB 2012, sherry cask finish, 328 btl.)
Nose: slightly tropical and overripe fruits. Pineapple, apricots, black bananas. Quite estery, with whiffs of old rum. Some leather and varnished wood. Buttery vanilla cake and a wee salty note. The sherry is subtle of course.

Mouth: intense after so many years, with an obvious white pepper note before it bursts into fruity notes. Pear, mango, pineapple, maybe some kiwi. It's very elegant, with just a light winey touch and subtle vanilla.

Finish: long, honeyed and slightly floral, with light woody notes.
A great whisky, powerful and silky smooth at the same time, with a lovely tropical fruitiness and very little cask influence. Perhaps not the best example to showcase what a sherry cask can do, more an advocate for old, almost exhausted wood in a way. Nonetheless wonderful stuff.
Score: 93/100
BenRiach 35 yo 1975
(51%, OB for Asta Morris 2011, Oloroso hogshead #7227, 236 btl.)
One we reviewed extensively when it hit the market. All I can say is that it confirmed its reputation.
It has most of the 1976 tropical fruitiness, guava, passion fruits (with a little more weight), great cognac-like notes and subtle oak spice. Wold-class whisky – always a pleasure to try it again!
BenRiach 33 yo 1977 (52,2%, OB 2010, single cask #1033, PX sherry finish, 331 btl.)
I also knew this one. We're suddenly in a whole other sherry territory here, much darker, with some meaty notes. I even detected a certain smoky / diesel-like note now. Also the herbal side (menthol, cough syrup) struck me this time.
Heavy sherry, heavy oak, but in an enjoyble balance. Auction material as well.
GlenDronach 28 yo 1990
(51,7%, OB 2019, PX sherry puncheon #7905, 660 btl.)
I reviewed sister cask #7005 but not this one.
Nose: deep, clean, sweet sherry. A lot of oak spice and roasted coffee notes, which makes it rather dry overall, with less raisins and figs than you'd expect. Dark blackberries and treacle underneath.

Mouth: dark toffee, gingery notes. Liquorice, pepper and coffee. Plenty of chocolate and Black Forest gateau.

Finish: long anc punchy, with wood spice and plums.
Clean and very rich GlenDronach, pretty perfect but slightly on the darker, chocolatey side. A good example of Pedro Ximénez casks indeed. Still a few available in Belgian stores.
Score: 90/100