Wu Dram Clan officially put an end to its Lighthouse series. Two whiskies were selected for the finale. It's actually a fairly young series (started early 2022 if I'm not mistaken) but it seems they're doing a rebranding as well, which is probably easier if you start from scratch.
The first is an undisclosed peated (!) Speyside whisky distilled in 2009. The distillery should be easy to guess if you look at the aquarel painting on the label.
A Speyside Distillery 13 yo 2009 – peated (53,2%, Wu Dram Clan 2023, hogshead #200929, 326 btl.)
Nose: bonfire on a beach. Mulching leaves and vegetal notes at first (cooked cabbage), but this fades away. Then dark malt and a sweet side that is close to chocolate. More classic after a while, on charred logs and smoked lemons. Old leather and mint in the background.
Mouth: deep smoke again, with a toffee sweetness, liquorice and black peppercorns. Some iodine and salt appear – which seems strange for a Speyside whisky, even though Elgin is not far from the sea of course. Then some brighter fruits come out, like citrus and peach, lifting the entire composition. Light hints of toffee, milk chocolate and leather again.
Finish: good length, with a warming heat, still a sweet and spicy combo, and mild Lapsang tea.
It seemed to have a slightly dirty edge at first, but it settled down eventually (until you put it agaiinst the next whisky, see below…). Warm smoke, with some maritime notes that make it less Speyside but certainly not worse. Check the Wu Dram Clan partners to see if they can still locate a bottle.
The next one is also peated, from the Swedish Smögen distillery. This 2014 vintage is heavily peated (around 50 ppm, if I'm not mistaken) and matured in an ex-Four Roses bourbon barrel.
Smögen 9 yo 2014 (59,8%, Wu Dram Clan 2023, first fill bourbon barrel #14, 222 btl.)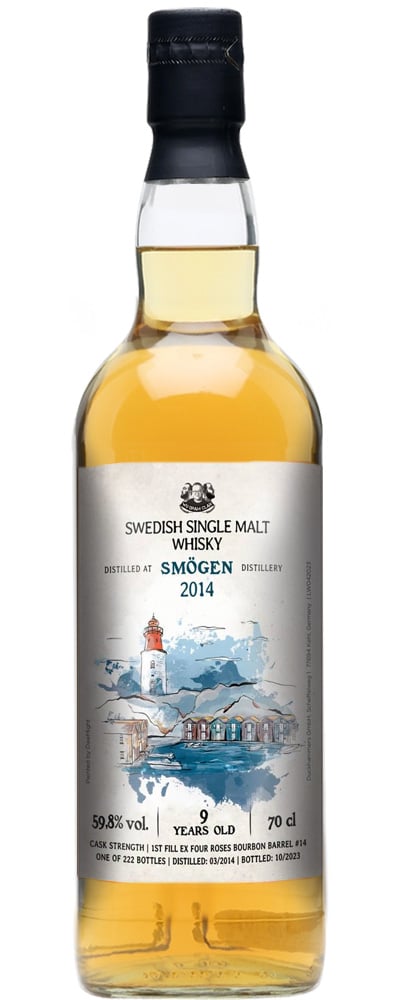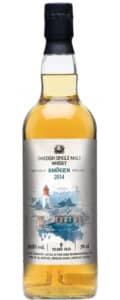 Nose: very pure and elegant – much more high-pitched as well. Eucalyptus and varnished (pine) wood. Slightly less maritime this time. Then bright citrus, fresh bread and hints of apple pastry. Later it also develops a chalky and sandy note.
Mouth: more bready cereals but also nice fruits. Pink grapefruit and lemons definitely, but also light peaches, giving a burst of fruitiness. Grassy smoke and a wee plankish note in the background (pine). Tiny hints of juniper, salty brine and seaweed. The smoke seems more subdued now, but also more peppery. A fresh, complex Nordic profile.
Finish: quite long, now becoming slightly more sooty, always with this lemony sharpness and light herbal notes.
Smögen often displays a very precise, tight style and this is a good example. Very to-the-point, very high quality. Sweden is putting the Scottish whisky in the shade. Sold out in no time. Score: 89/100