Kirsch Import recently presented a series of three single cask whiskies selected from the Signatory Vintage warehouses. They come from Linkwood, Benrinnes and Bunnahabhain and they're finished in first fill sherry butts.
All three are priced around € 65-70 which means they could be interesting entry-level options if you're in the market for an affordable sherry cask.
Linkwood 13 yo 2009 (43%, Signatory Vintage 'Single Cask Monument' for Kirsch Import 2022, first fill sherry butt finish #12)
Nose: pleasantly fresh, a combination of mint oil, earthy sherry and plums. Then some peach jam and vanilla pastry. Whiffs of strawberry candy even. Light pinewood and varnished touches. Baked apples, cinnamon and nutmeg. A fruity profile, albeit with a good dose of oak shavings.
Mouth: similar fruits, mostly citrus and strawberry now. The minty woodiness now has a slightly bitter and astringent herbal edge. Then some nutty notes, like roasted almonds and green walnuts, with a faint caramelized note. Black pepper, orange peels and a grassy side.
Finish: rather long, quite leafy, with burnt nuts, more pepper and a bittersweet note.
A slightly uncommon but very nice nose, leading up to a more woody palate. Good start, it's not perfect but it definitely offers a lot of interesting flavours and very good value for money. Available from lots of German retailers.
Bunnahabhain 10 yo 2012 (43%, Signatory Vintage 'Single Cask Monument' for Kirsch Import 2022, first fill sherry butt finish #900778)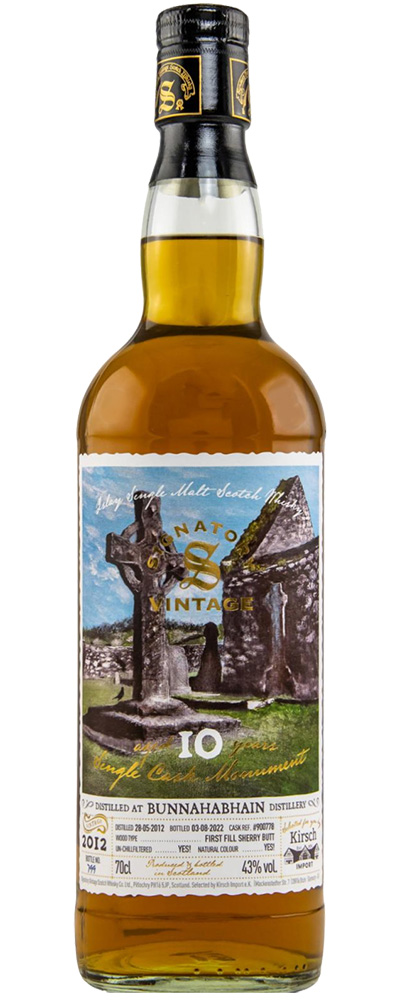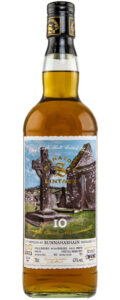 Nose: rather typical for the gentle, autumnal kind of sherry that you often get in Bunnahabhain. Baking spice (nutmeg and cinnamon) with toasted bread and hints of moist tobacco. Some raisins, leather, mulched leaves and hints of mossy wood. Less fruity, more musty than the Linkwood.
Mouth: quite some sweetness up front. Caramel and spice, with candied orange peels and hints of dark chocolate. Then some roasted nuts, leather and sweet herbs. Black pepper and earthy notes towards the end.
Finish: its weak point. Shorter than expected, on black pepper, nutty notes and musty oak.
An earthy, autumnal style of sherry close to the official profile of this distillery. I'm not sure that's an asset, you might as well buy the standard Bunnahabhain 12 Years and keep the change. Score: 83/100
Benrinnes 11 yo 2011 (43%, Signatory Vintage 'Single Cask Monument' for Kirsch Import 2022, first fill sherry butt finish #6)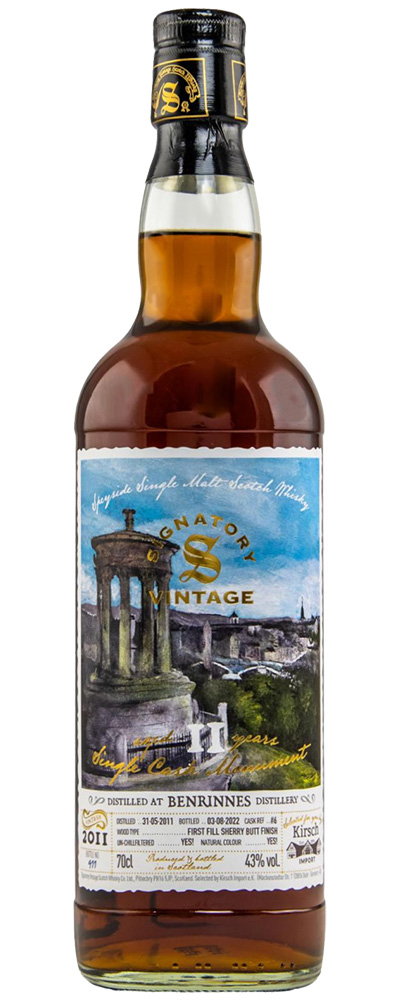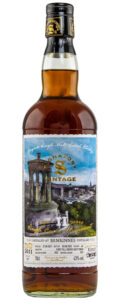 Nose: darkest colour, most intense profile. Quite aromatic although still rather high-pitched. Blackberries, raisins, plums. Later also nuts and moist tobacco leaves. Then a polished but slightly harsh woody note – a common theme in this little series. Also scents of cocoa and leather.
Mouth: sweet oak comes out first, followed by red fruits, raisins and orange zest. Gets slightly thinner and drier in the middle, on herbal notes and leather, with baking spice. Cooked apples with clove and nuts. Not very complex, but nicely all-round.
Finish: medium long, with a clean sherry influence, hints of chocolate, tobacco and toffee sweetness.
Benrinnes is a good victim for this kind of sherry treatment. Not a surprising whisky but again hard to beat in terms of value for money. Overall this is a nicely coherent series, with rich profiles at affordable prices. The sherry is never spectacular but always well dosed. Perfect for evenings with friends. Score: 86/100