The Macallan M Collection is one of the most prestigious partnerships between The Macallan and crystal maker Lalique. It all started in 2013 with The Macallan M, a classic edition from sherry seasoned casks. It became a yearly edition until a second version was released in 2017: The Macallan M Black.
Now in 2022 The Macallan M Collection is expanded again. It consists of three whiskies:
The classic Macallan M, entirely from sherry-seasoned casks
Macallan M Black, with a light smoky touch
Macallan M Copper, with less emphasis on sherry casks
It's funny how you don't seem to find independent tasting notes of the Macallan M whiskies, not even from previous years. In fact I couldn't find any reviews of the entire series. A special report…
The Macallan M (45%, OB '1824 Masters Series' 2022, sherry seasoned casks)
Nose: fantastic, this brings me right back to the best days of The Macallan. It's full of juicy plums and blood oranges, with Ginjinha cherry liqueur, leather polish and mentholated notes. Then polished furniture, old Meursault and whiffs of proper old Oloroso. Walnut cake, subtle hints of potpourri and drops of raspberry juice. Very vibrant and perfectly sophisticated.
Mouth: slightly darker now, with chocolate and red berries, as well as herbal tea. Still some dried fruits, albeit in a thinner way than the nose suggested. Hint of marmalade, chestnut honey and mild oak spice. Think clove and cardamom, with liquorice and light tobacco.
Finish: just medium, but still really fresh, on oriental spice, hints of smoky cedar and black tea.
One of the best Macallans I've been able to try in the past few years. A gorgeous nose, and while it gets slightly thinner and a little tea-like on the palate, it never looses its freshness and elegance. Really beautiful. Available internationally from The Whisky Exchange, Master of Malt as well as several local retailers.
The Macallan M – Copper (42%, OB '1824 Masters Series' 2022)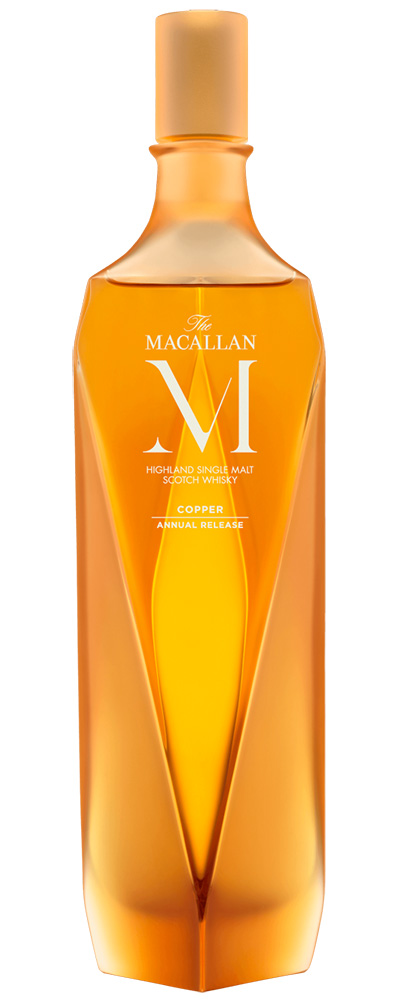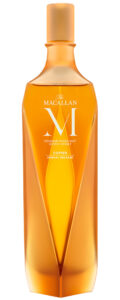 Nose: quite uncommon for a Macallan, this is fairly malty, even a little dusty, with a very nice waxy side. Hints of peach and ripe banana, as well as red apples and hints of buttery vanilla. Then back to old candles, verbena scented balm and touches of orange peel. Linseed oil and dried wildflowers.
Mouth: this reminds me of these very old undisclosed Speysiders from the early 70s. More orchard fruits like pears and peaches, as well as light tropical fruits, with a clear malty core. Subtle nutmeg and mint, vanilla cake and a hint of leather.
Finish: quite long, on toasted oak, with fruity and waxy echoes.
Copper is an atypical Macallan, with plenty of waxy fruits and far less sherry influence than we'd expect. I'm sure this holds very old spirit, but maybe it was spiced up with some younger wood? Overall a nice contrast and simply a great whisky in its own right, but in my opinion sherry casks make The Macallan shine even more. This is the most expensive release in this series, yet apparently this is much harder to find at the moment, try HTFW. Score: 91/100
The Macallan M – Black (46%, OB '1824 Masters Series' 2022)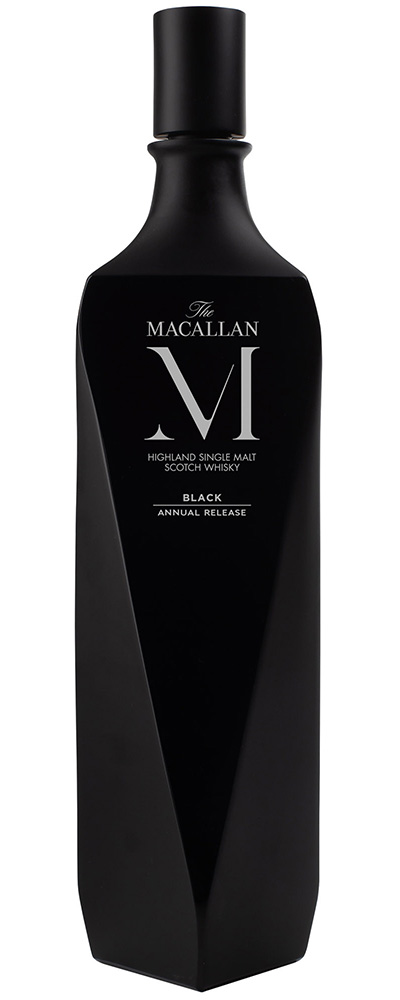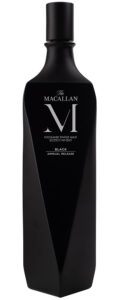 Nose: fairly bright and aromatic, reminding me of old cognac first. Nectarines, plums and red apples, later whispers of sour cherry, dried apricots and exotic fruits as well. Light hints of orange peels and fragrant rose petals, alongside fruitcake, sultanas and light rancio. Beautiful sherry notes. A faint whiff of copper polish in the distance, as well as some toasted exotic wood. Not quite a peaty note in my opinion, more of a smoky wood touch.
Mouth: starts on orange peels again, with hints of marmalade, sultanas and floral honey. Then it gets darker, with hints of chocolate and indeed a subtle smoky note (Lapsang Souchong). Mild ginger heat and citrus oils, with hints of blackberries and sweet black peppercorns. A few drops of Oloroso, herbal extracts and hints of tobacco towards the end.
Finish: longer than the other two, on cedar wood, raisins, oriental spices and smoky echoes.
Rare, black ended casks holding peated whisky have been meticulously selected to create this unique expression. The smoke-infused spirit matured in these sherry seasoned oak casks has gathered distinction and depth over decades.
Peatheads would be disappointed, this is a really subtle 'cask char' type of smokiness that you often find in really, really old Speyside whisky. That said, the combination of a classic sherry influence, light rancio and this charred note makes this a pretty special Macallan. The higher ABV helps to bring out more flavour as well. Available internationally from The Whisky Exchange, Master of Malt as well as several local retailers. Score: 93/100